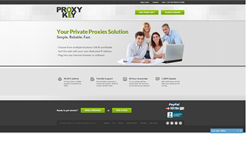 Call (201) 870-6000 for more information.
Englewood Cliffs, NJ (PRWEB) November 20, 2013
Proxykey.com, one of the world's leading private HTTP proxy services, has recently announced the unveiling of South African IPs. A trusted provider of private proxies and a recognized name in its niche, ProxyKey.com (http://www.proxykey.com) is the only company that will provide proxies for South Africa to date. Businesses and individuals alike will now be able to take advantage of South Africa's booming market.
According to the World Bank Annual Report, South Africa was ranked 41st out of almost 200 economies around the globe. In recent years, the country has implemented several reforms that eliminate a number of taxes therefore making the market more attractive for shareholders. The new legislation has been designed to offer investors more protection, particularly by restricting third party access to documents before trial.
South Africa has recently placed a draft law under public debate until January 31, 2014. If the Promotion and Protection of Investment Bill passes, foreign investors will benefit from the same robust coverage provided to local or domestic investors. For the time being, the coverage is intended to provide protection for investors with whom the country doesn't have any bilateral treaties by means of bypassing any new obligations. The issue of bilateral treaties is currently under debate with the European countries where South Africa has investment projects in place.
Entrepreneurs who are looking to open up new a new branch office in the most cost-effective manner should consider South Africa. The country's new laws have significantly simplified the process of getting the necessary construction permits. Due to the fact that South Africa desperately needs foreign investment to power its economy, starting a new business in South Africa has also become easier, as authorities have lowered the registration fees and reduced notary taxes. South Africa and its Sub-Saharan partners have made significant progresses in simplifying trading across borders in this part of the globe.
ProxyKey.com operates under Melen, LLC, a robust company that has been nominated for the Empact 100 Awards for the third consecutive year. Similar to its mother company, ProxyKey.com brings a fresh and innovative way of doing business. As happy customers can testify, the company provides hassle-free services that can be used with any browser or software, with no toolbars or sophisticated installations. The company considers its close relationships with their datacenters worldwide as one of their greatest competitive advantages. Proxy Key's proprietary systems and networking capabilities have allowed them to maintain their historical 99.92% uptime which is unheard of in the industry.