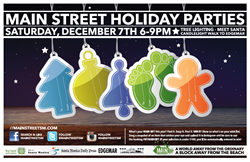 Main Street Santa Monica is excited to spread the holiday cheer with this joyous weekend of events and sales.
Santa Monica, CA (PRWEB) November 20, 2013
The holidays are just around the corner and historic Main Street in Santa Monica will be getting in the spirit on Dec. 7th when they host street-wide holiday parties and sidewalk sales. Over 55 businesses will be participating, offering holiday beverages, snacks, sweets, door prizes and more.
On Saturday, Dec. 7th Main Street will become Santa Monica's holiday shopping destination, with holiday parties taking place up-and-down the street.
Of course, no holiday party would be complete without a visit from Santa himself!
Santa will be arriving in his sleigh (a Santa Monica Fire Truck) at the museum lawn to pose for photos with the kids on December 7th at 5 p.m. Guests can tell Santa if they've been naughty or nice for free, and are encouraged to bring their own camera to snap these holiday memories.
At 6 p.m. on Dec. 7th, there will be a tree lighting ceremony with music by the Samohi Choir and Green Brooms Music Academy on the California Heritage Museum lawn. Afterwards, Santa will lead the Candlelight walk to the famous Shopping Cart tree at the Edgemar courtyard, complete with music by the Off Their Jingle Bell Rockers and Th3 Trip. For the rest of the evening, Santa and the caroling groups will stroll the street and attend the parties, with Santa available for more photos and a hearty Ho Ho Ho!
The sidewalk sales take place on both December 7th and 8th during the hours of 11 a.m. to 7 p.m.
Main Street (@MainStreetSM) will also be hosting an Instagram contest for holiday shoppers! Customers who take a snapshot of an item under $100 that catches their eye in any shop or food establishment on Main Street, and upload it to Instagram, will instantly be entered to win a gift of their choice. Participants are encouraged to use the hashtags #MAINSTREETSM and #MYMAINGIFT and to identify the business when participating. For contest details and rules please visit http://www.mainstreetsm.com/holiday-event-2013.
Main Street Merchants are invited to participate in the 2013 Holiday Decorations Contest! A judged contest, Santa Monica community leaders and arts people will judge who will be the cheery recipients of the $300 first prize, $200 second prize, and $100 third prize. The judging will take place between November 29th at 5pm Dec. 6 at 5pm and the winner will be announced at the Museum Lawn tree lighting and the Shopping Cart tree festivities on December 7th.
Main Street Santa Monica is excited to spread the holiday cheer with this joyous weekend of events and sales. For more information and all the details on the various events at the participating stores, please visit
http://www.mainstreetsm.com/holiday-event-2013.
Main Street Merchants Hosting Holiday Parties Include:
1. 220 Fitness, 3002 Main
2. Accents Jewelry, 2900 Main
3. Agabhumi, 2665 Main
4. Alchemie Spa, 2021 Main
5. Ambiance Salon, 2525 Main
6. American Apparel, 2654 Main
7. Areal, 2820 Main
8. Arts & Letters, 2665 Main
9. barcopa, 2810 Main
10. Betsy & Tracy, 2665 Main
11. Bike Attack, 2400 Main
12. Blue Sparrow, 2808 Main
13. bombSHELL, 2431 Main
14. Books and Cookies, 2230 Main
15. Buffalo Exchange, 2449 Main
16. Bumble Bee, 2651 Main
17. Casmaine, 2914 Main
18. Circle Bar, 2926 Main
19. Clouds, 2719 Main
20. Compliments Fashion, 2804 Main
21. Santa Monica Convention & Visitors Bureau, 2427 Main
22. Episode, 2823 Main
23. Fedora Primo, 216 Pier Ave.
24. Finn McCool's, 2700 Main
25. Fix Vapor, 2909 Main
26. Free People, 2925 Main
27. Fringe of Beverly Hills, 2717
28. gioia, 2721 Main
29. GOGA, 2710 Main
30. iZIP, 2803 Main
31. haleARTS, 2443 Main
32. Kiki Designs, 2724 Main
33. Lash Girl, 2507 Main
34. Lula, 2720 Main
35. MAX Studio, 2712 Main
36. Miakel Bishay Salon, 2919 Main
37. Mindfulnest, 2711 Main
38. Moxie Beads, 2200 Main
39. Next Salon, 2400 Main
40. Optical Shop of Aspen, 2904 Main
41. Pebbles, 2400 Main
42. Plantation, 2726 Main
43. Precious Metal Arts, 2510 Main
44. RAWvolution, 2301 Main
45. Rick's Tavern, 2907 Main
46. Rita's of Santa Monica, 2307 Main
47. Stansbury Collection, 2816 Main
48. Sunny Blue, 2728 Main
49. Ten Women, 2651 Main
50. The Closet, 2708 Main
51. Trendy Sunglasses, 2716 Main
52. Uroborus, 2407 Main
53. Varga, 2714 Main
54. Vital Hemp, 2305 Main
55. yogitoes, 2403 Main
About Main Street Santa Monica:
Main Street Santa Monica is an eclectic collection of restaurants, boutiques, cafes, and various services stretching for about a mile from Pico south to the Santa Monica City limit. It is NOT the Mall. Historic, and Going Green, the street offers numerous unique shopping and dining experiences. Main Street is also popular for the weekly Farmer's Market every Sunday at Heritage Square, the annual Summer SOULstice, and the annual Holiday event featuring The Shopping Cart Tree. For more information visit http://www.mainstreetsm.com.
Media Contact: Kelley Coughlan, Melrose PR, kelley(at)melrosepr(dot)com, (310) 260-2901, http://www.melrosepr.com