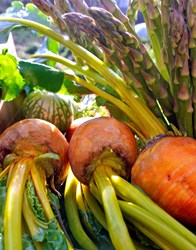 Our commitment to environmentally conscious business practices is motivated by our loyal customers and staff. We feel privileged to play a leading role in supporting ethical, responsible food practices.~ La Prima President Dave Evans
College Park, MD (PRWEB) November 20, 2013
La Prima Catering, a full-service company offering corporate and special events catering, tops the list as the "Greenest Caterer on the East Coast" and number two in the entire U.S., according to the Green Restaurant Association. La Prima is extremely proud of this accomplishment and the dramatic steps the company has taken to reach this level of sustainable business practices.
The GRA rates organizations based on their sustainable practices in seven categories: Disposables, Energy Usage, Furnishings and Building Materials, Chemical Reduction, Waste and Water Usage. Receiving a score of 288.92 on the GRA's rigorous certification scale, La Prima's College Park kitchen earned the highest point rating of any caterer in the D.C., Maryland and Northern Virginia regions, and on the entire East Coast. As of last week, all five of La Prima's kitchens – in Alexandria and Fairfax, VA, Columbia, MD and Philadelphia, PA, in addition to College Park -- are near the top of the GRA scale.
La Prima earned this certification by implementing the most environmentally conscious business practices and encouraging customers and employees to "Dine Green." Widely known for its farm to table services, La Prima continues striving to provide patrons with the freshest foods, grown locally. With an onsite organic garden and nearby partner farms, La Prima shows its commitment to healthy, sustainable foods and local businesses.
"We are extremely proud of our ongoing efforts to provide the most sustainable catering on the East Coast," said La Prima President Dave Evans. "Our commitment to environmentally conscious business practices is motivated by our loyal customers and staff. We feel privileged to play a leading role in supporting ethical, responsible food practices."
To see the GRA rankings featuring La Prima's and other U.S. caterers' scores, click here.
About La Prima
La Prima Catering kitchens operate in five locations throughout the Washington, Baltimore and Philadelphia metro regions, providing unsurpassed service that is fast and flexible. The company's Catering by Seasons division offers a delicious, contemporary menu full of imagination and style for memorable special events such as weddings, corporate galas, religious celebrations and other important occasions. Its "Seeds to Celebration" program provides fresh-from-the-garden, elegant and sustainable events that support local farms and protect the environment. The company's "H Generation" division provides a nutritious school lunch program for area schools.