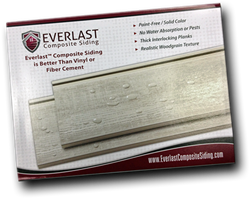 New Englanders desire to keep the look of wood on their homes but because of the harsh weather, prefer a material that is durable and low maintenance. That is what makes the Everlast appealing. - Lilia Gosselin of United Home Experts
Ashland, MA (PRWEB) November 21, 2013
Winter has arrived in New England, and it is only a matter of time before inclement weather begins to make its presence felt across the region. With this in mind, United Home Experts and Everlast composite siding have teamed up to offer complimentary sample kits to homeowners across the region who are still weighing their options for siding projects.
The sample kit provides homeowners helpful information like a siding comparison guide and project profiles as well as 2 pieces of the Everlast siding.
As an exclusive installer of Everlast Composite Siding in Massachusetts, Southern New Hampshire and Rhode Island, United Home Experts wants to make sure that area homeowners are making use of all of the tools at their disposal as they plan out siding projects. The Everlast siding, manufactured by Norandex, has been installed on homes across New England for several years and is rising in popularity for its durability and resemblance to wood siding.
"New Englanders desire to keep the look of wood on their homes but because of the harsh weather, prefer a material that is durable and low maintenance," said Lilia Gosselin of United Home Experts. "That is what makes the Everlast appealing."
As part of their duties as an exclusive installer of the product, United Home Experts are also offering free consultations to any homeowners in the region who are considering using the product.
"Seeing and feeling the samples help homeowners understand the differences between the Everlast composite siding and the other siding options out there," said Peter Martino, of United Home Experts. "I have yet to talk to a homeowner who is not impressed the minute they feel the material for themselves."
United Home Experts has proudly served homeowners in the New England area for over 15 years. For more information on Everlast siding, and other home restoration services offered by United, visit: http://www.unitedhomeexperts.com/.
About United Home Experts:
Ashland, Massachusetts-based United Home Experts, is a full-service home improvement company offering siding, roofing, painting services and replacement windows in Boston, and much of Massachusetts, Rhode Island and New Hampshire. United develops experienced, skilled craftsmen and field managers who are focused on customer satisfaction, and uses the latest technology and equipment on projects to increase efficiency while improving quality.