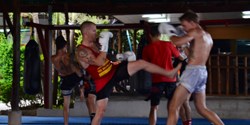 "We want to offer a world class martial arts experience. "- Julius Park
Baltimore, MD (PRWEB) November 20, 2013
Baltimore area Mixed Martial Arts fighter, Jon Delbrugge of Crazy 88 Brazilian Jiu-Jitsu, left for a 17 day trip to Tiger Muay Thai training center in Thailand. Thailand is considered the best place to train their native martial art, Muay Thai kickboxing, and Delbrugge will bring a wealth of new knowledge and techniques back to his academy.
Jon Delbrugge, Mixed Martial Arts (MMA) fighter of Crazy 88 Brazilian Jiu-Jitsu, left early November for a 17 day Muay Thai training camp in Thailand. The camp took place at Tiger Muay Thai, one of Thailand's top-rated kickboxing training centers. The fact that Thailand is considered the best place to train this martial art made this a great opportunity for Delbrugge, his training partners, and the students of his academy.
Muay Thai is a kickboxing martial art which originates from Thailand. In Mixed Martial Arts, it is one of the most predominately used striking martial arts, and is heavily utilized by many of the UFC's champions and elite contenders. This martial art takes place standing and uses punches, knees, kicks, elbows, and throws for defense and attack. Muay Thai fighters are best known for their kicks, which use their shins to cause damage to their opponents.
Tiger Muay Thai, located in Phuket, Thailand, is one of the greatest Muay Thai facilities in the world. It's trainers have worked with some of the best Muay Thai fighters around, as well as elite MMA fighters including Ultimate Fighting Championship (UFC) fighter, Georges St. Pierre. This makes for a great training environment for any competitive Muay Thai or MMA fighter to gain a high level of experience. Upon Delbrugge's return, he will have gained invaluable depth in their kickboxing style.
Jon Delbrugge has been training and competing in martial arts since 2007. At Crazy 88 Brazilian Jiu-Jitsu, where he has trained his entire career, he is a brown belt in Brazilian Jiu-Jitsu under Master Julius Park, as well as a pro MMA fighter with a record of 3 wins and 1 losses. He has won many high level Brazilian Jiu-Jitsu tournaments such as the Brazilian Nationals, as well as placed at other international tournaments.
Most recently he has opened his own Crazy 88 facility in Owings Mills, MD, but manages to maintain a full training and competing regiment. Delbrugge's goal is to one day fight in the UFC, which is why experiences such as these trips to Thailand are so important.
Crazy 88 Brazilian Jiu-Jitsu is the only martial academy in the Baltimore area that sends its Muay Thai instructors to Thailand for a month every year. There are few places in the world that can give a Muay Thai fighter the same experience as training in Thailand. This helps to bring a new perspective into the training, which benefits the competitors as well as the students looking to learn to defend themselves and workout. Master Julius Park said, "We want to offer a world class martial arts experience. The only way we can make that possible for Muay Thai is to have our instructors train it in it's native country."
For the best Martial Arts training in Howard County MD, please contact:
Crazy 88 BJJ - Elkridge 7024 Troy Hill Dr, Suite L Elkridge, MD 21075 443-283-1450
or visit http://www.BaltimoreMixedMartialArts.com
For information on MMA training in Baltimore County, please contact:
Crazy 88 - Owings Mills 5 Easter Ct, Suite E Owings Mills, MD 21117 410-999-1064
or visit http://www.Baltimore-MMA.com