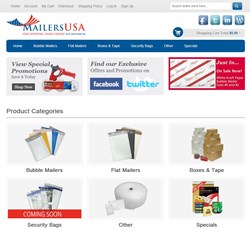 Bellevue, WA (PRWEB) November 20, 2013
The new site features smooth navigation throughout, a live floating shopping cart on every page, restructured categories and tiered pricing on most products. The fresh design and simplified shopping experience have really set them apart from other shipping supplier sites.
"We are thrilled to improve our customers' experiences by offering a clean, new design that functions almost identically to the old site, but with added capabilities. A top priority in the redesign of the site was to not inconvenience our current customers' with a prior knowledge of the site and order process." Marketing Specialist - Jae Atkinson
About MailersUSA
Mailers USA is solely an e-commerce company: http://www.mailersusa.com with headquarters in Washington state. They ship from 3 U.S. warehouses, so orders can reach their customers faster than most competitors. Most of their products are made in the U.S. and 100% recyclable. Excellent customer service and offering quality products are their priority. They offer a variety of shipping supplies like bubble mailers, rigid paperboard mailers, flat poly mailers, shipping boxes, packaging tape, and bubble rolls.