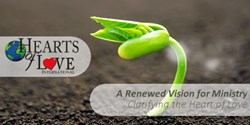 Providing Reproducible Ministry Models that provide Certified Life Coach Awareness, Training, Implementation and Outreach Worldwide
Irving, TX (PRWEB) November 20, 2013
The past few weeks Hearts of Love International Inc. has gone through a major re-visioning process which encompasses reproducible Ministry Models, with regard to the impact of Emotional Well Being and practical Certified Life Coaching in Orphanage Systems address the areas of Early Child Development, Special Needs and Teens transitioning out of the Orphanage Systems.
Development of Life Coaching models in Pakistan presents a Reproducible Ministry format to minister to the needs of Christians in predominantly Muslim cultures. This effort is designed to equip "nationals" to administer to the need of their countrymen.
AWARENESS is achieved through our Radio Program, Affiliate Representative Network, Seminars, Fundraisers and Presentations.
TRAINING is achieved through our Regional Certification Seminars, Online Coursework and development of College Level Curriculum. This coursework includes equipping the local church to minister to the emotional and spiritual needs of its body through Life Coaching Certification as well as assisting in the areas of Early Childhood Development and Special Needs Training with regard to the impact on Emotional Well Being. Life Coaching also fulfills the discipleship model in a practical manner due to the inherent ongoing mentoring and accountability between the coach and client.
IMPLEMENTATION is achieved through practical application in Retreat Center Intensives, with emphasis on Marriage, Family, Military and Individual Emotional Life Challenges including PTSD. Clients are coached by Certified Life Coaches in individual and group sessions with programs tailored to the individuals' specific need. Ongoing coaching relationships are also a natural byproduct of the Retreat Center Intensives, Certification Seminars and Awareness Teaching.
OUTREACH is achieved through ministry relationships worldwide.
Lastly, because God has a heart for Israel; Hearts of Love International has a heart to minister to the relationship between Jews and Christians, enabling them together to minister to the Emotional Well Being of Israel through Life Coaching.
Vision Statement - Hearts of Love International exists to administer to emotional well-being of all people.
Mission Statement - We seek to achieve this vision through Reproducible Ministry Models that provide Certified Life Coach Awareness, Training, Implementation and Outreach worldwide.
To schedule a speaker to discuss the impact of Certified Life Coaching on the church, discuss the Affiliate Program, or to host a Fundraiser please call (910)-638-1740.
To request information regarding Current Training Schedule or Retreat Center Intensives please contact (214)-613-9880.
For more information about this ministry and how you can participate in supporting please go to http://www.heartsofloveinternational.org.
Info(at)HeartsofLoveInternational(dot)org