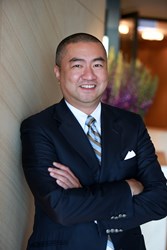 (PRWEB) November 21, 2013
Young Presidents' Organization (YPO) today announced the election of Bernard Auyang of Hong Kong as its 2014-2015 chairman of the YPO International Board. The international chairman is YPO's highest elected office. Auyang, who currently serves as vice chairman, will take office 1 July 2014.
A member of YPO's Hong Kong and Mongolia chapters, Auyang was elected by peers sitting on the International Board. He will be YPO's 63rd international chairman.
Auyang is chairman of Vida Nova Ventures, a Hong Kong-based direct investment company focusing on media and technology companies in Asia. He is also the co-CEO of Touchmedia Group, the world's largest in-taxi interactive advertising platform. Auyang serves on the boards of Dragonchip Limited, Sumida Corporation and QVIVO Limited.
"Bernie has been an exemplary leader in the organization at every level," said 2013-2014 International Chairman Fulton Collins of Dallas. "He knows the inner workings and embraces the vision of the organization like few others do. He is the perfect international ambassador of YPO's mission to build Better Leaders Through Education and Idea Exchange."
"It is an honor to have the opportunity to lead YPO, an organization that I am passionate about," said Auyang. "In a world where uncertainty is a common theme, YPO's purpose of promoting better leadership is as relevant today as ever. It will be a privilege to lead the organization during this crucial time."
About YPO
YPO (Young Presidents' Organization) is a not-for-profit, global network of young chief executives connected around the shared mission of becoming Better Leaders Through Education and Idea Exchange. Founded in 1950, YPO today provides 21,000 peers in 129 countries with access to unique experiences, world-class resources, alliances with top learning institutions, and specialized networks that help them enhance their business, community and personal leadership. Altogether, YPO member-run companies employ more than 16 million people around the world and generate US$6 trillion in annual revenues. For more information, visit http://www.ypo.org. Also see us on Facebook and follow us on Twitter.
Contact: press(at)ypo(dot)org