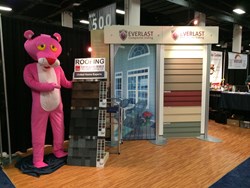 I love showcasing the Everlast siding at home shows because most homeowners have never seen anything like it. - Lilia Gosselin
Ashland, MA (PRWEB) November 21, 2013
United Home Experts announced today that they will be attending several home shows around New England this fall. In November, United will demo their products and services at two shows in Worcester and Providence.
United Home Experts has proudly served the areas of southern New Hampshire, Massachusetts, and Rhode Island for years. Home shows present an ideal forum for the experts at United to showcase their unique products and services to homeowners firsthand.
"It's a great opportunity to meet with homeowners face to face," said Lilia Gosselin, from United Home Experts. "Signing up for an estimate online can sometimes be intimidating, but when we can meet with a homeowner in person, they see that we aren't a high pressure company like many in the industry."
United Home Experts is widely regarded as a top tier home restoration firm in the New England area, and that distinction is reflected in their product offering. United is the exclusive installer of Everlast siding, a unique, maintenance free product that is not vinyl.
"I love showcasing the Everlast siding at home shows because most homeowners have never seen anything like it," said Gosselin. "It looks just like wood but is maintenance free and is much thicker than vinyl. Those characteristics are not as apparent on a website, but at a home show, they can see and feel the product for themselves."
United Home Experts is also one of only two Owens Corning Platinum Preferred roofing installers in the region. As part of that service, United offers an excellent, unparalleled roof warranty.
United Home Experts will participate in two home shows in November, with one show at Worcester DCU, and another at Rhode Island Convention Center. For more information on the products and services that will be demonstrated at the home shows, please visit http://www.unitedhomeexperts.com.
About United Home Experts:
Ashland, Massachusetts-based United Home Experts, is a full-service home improvement company offering siding, roofing, painting services and replacement windows in Boston, and much of Massachusetts, Rhode Island and New Hampshire. United develops experienced, skilled craftsmen and field managers who are focused on customer satisfaction, and uses the latest technology and equipment on projects to increase efficiency while improving quality.