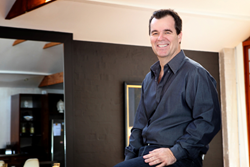 One of the things that really gets people inspired with my property investment strategies is the idea that they can walk away from the whims of the market, and start dealing directly with people.
(PRWEB) November 20, 2013
Property authority Rick Otton has this week revealed an alternative perspective on a recent report showing that, across more than half of England, a typical UK family looking to buy a home for the first time would be able to afford less than one in ten suitable homes on the market.
The long term professional property investor noted a fundamental flaw in the report's assumptions, which was produced by housing charity Shelter. The report took asking prices for houses in different areas, and compared them to mortgages that first home buyers on average wages could afford.
"Look, right there I think there's a problem. If you're on an average wage, the last thing you want is a massive bank loan hanging over you," said Mr Otton. "This is another reason the Help To Buy scheme isn't working so well. People are realising that there are other ways to buy a home without jumping through bank hoops and spending the rest of their lives paying off a mortgage."
The report also showed that in some areas of the country, the figures dropped to only one in twenty houses on the market classified as "affordable". Some regions were especially tough, including Warwick, with just four per cent affordable, York at three per cent, and West Somerset at a tiny two per cent, or just one in every fifty houses on the market.
"I agree with Shelter in that there is a desperate shortage of affordable homes. But I don't agree that the way to financial freedom is through trying to convince the banks to let you take on huge piles of debt," said Mr Otton. "That paradigm took us all the way to the housing crash in 2008, and sticking with it and thinking that it's a good model for real estate investment is not the way to long term wealth."
Avoid Market Whims
"I am seeing it more as I talk to people at my property events. One of the things that really gets people inspired with my property investment strategies is the idea that they can walk away from the whims of the market, and start dealing directly with people" explained Mr Otton. "Because I'm about really practical ways to find out what people need and then to meet those needs, not about trying to read some crystal ball and pretend I'm some property investment 'guru'".
Mr Otton's students have, in the past, noted that his strategies resonate with them because of the focus on dealing directly with buyers and sellers and seeking win-win solutions. This approach avoids the standard housing market and prioritises individual solutions for people.
To give an insight into his strategies of buying and selling real estate without bank involvement, Mr Otton has, for a limited time, offered as a complimentary download, his Power Property Profits Pack at http://www.rickotton.co.uk
About Rick Otton
Rick Otton is a property investment professional who, over the last 23 years, has introduced innovative real estate strategies to the UK, Australia and the United States. His creative 'low-risk, high-reward' approach to buying and selling houses is exemplified in his own business, We Buy Houses.
This year marks the 10 year anniversary of Mr Otton introducing his strategies to the UK, and the 5 year anniversary of his innovative 'Buy A House For A Pound' process – one that attempted to be emulated by others. His constant process of strategy refinement, and adapting to the ever-changing real estate market, continues to place him at the forefront of property investment education.
In 2012 Rick Otton published his Australian book 'How To Buy A House For A Dollar' which was named in the list of Top 10 Most Popular Finance Titles for 2013. A UK version is on the drawing board for publication in 2014.
Mr Otton freely shares insights into his non-bank-loan strategies that have allowed everyday UK men and women to beat the rental cycle and have their own homes. He coaches others on how to build profitable businesses by facilitating transactions that focus on the needs of potential buyers and motivated sellers.
Access his free downloadable Power Property Profits Pack at RickOtton.co.uk, as well as the details of early bird pricing for his next UK 3-day real estate training conference in March 2014. Phone enquiries in the UK are welcome on 0207 000 1027.