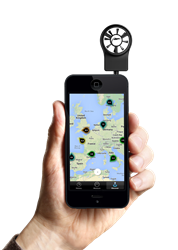 Powerful weather tools from windsurfers to farmers and everyone in between.
Tallinn, Estonia. (PRWEB) November 21, 2013
Following the success of its Wind Meter for iPhone this summer, Shaka's new Weather Station for Smartphones adds pressure and humidity sensors to the previously available wind speed and temperature measurements. The Weather Station works on iOS and Android devices.
The pre-order price is set at $99.90/€74.90 and devices will begin shipping worldwide in January 2014 on a first-come first-served basis.
New sensors give unprecedented power and control to outdoor enthusiasts whose plans depend on the weather. Unlike apps that use public sources to serve potentially misleading weather data from miles away, Weather Station for Smartphones reads the weather and makes short-term forecasts in the only place that counts: exactly where the user is.
"Accurate and on-the-spot weather measurements are important to many people, helping them make better decisions for everyday activities," said Shaka CEO and co-founder Raigo Raamat. "We make all that information available when you need it the most. And you can share this information instantly with others -- friends, family, colleagues, or the local community."
With Weather Station for Smartphones, sailors, wind- and kitesurfers, and paragliders can factor in temperature, pressure and humidity all at once. For the first time, they know air density and wind force at their exact location.
Farmers need all these parameters to know if it's the right time to spray. Otherwise, evaporation can make expensive chemicals vanish into thin air -- leaving crops wanting. Long-range shooters get even more comprehensive ballistics data resulting in better accuracy. Construction workers can decide if it's the right time to do painting work – paint the exterior of a house when it's too cold or humid, and the paint will end up peeling. Concrete professionals get the information they need to pour concrete that won't crack. Weather Station for Smartphones has hundreds of potential uses -- and markets.
About the company
Shaka turns smartphones into connected wind meters and impossibly accurate full-scale weather stations. The company currently serves individuals and businesses in more than 50 countries around the world. Customers for its first product, Wind Meter for iPhone, mostly live in the US and Japan, followed by the UK, France, the Netherlands, Germany and Denmark.
The company is working on an API that will make its data available to other services and applications. Find us on the web at shakaon.net and watch our product video at Vimeo.