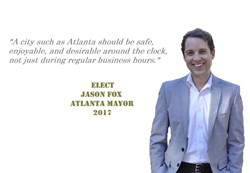 Atlanta, GA (PRWEB) November 20, 2013
Calling for lower property taxes and major government overhauls, businessman Jason Fox wants to be Atlanta's next mayor. Fox, the CEO and Managing Broker of Zellerman has announced that he is a candidate for mayor of Atlanta in 2017.
"Atlanta is a very diverse and international city, and yet I don't think our current government represents that, or sees the potential I see for our city," says Fox. "I envision a city that is an international destination with the world's best parks, an active and safe downtown, top public education, culturally inspiring and welcoming place to live and do business."
"I love this city, both its history and its future," Fox exclaims. "I understand its strengths and its struggles. That's why I feel it's my duty as a citizen to offer my skills and passion to help make Atlanta one of the world's best cities to call home."
Identifying himself as "socially reasonable and fiscally responsible," Jason is running as an independent. He believes no one party is right all the time and that's why our government is in the mess it is in.
Growing up in Atlanta, Fox, 35, earned his Business Management degree at Georgia State University. While in college he was one of the youngest to work and excel at several IT firms for which he was profiled in the Atlanta Journal Constitution at age 23. His independent studies have taken him to such cities as Paris, Barcelona, London and Rio.
Over the years, he started and operated several businesses, the first being a successful lawn care company at age 14. For the past 15 plus years, Jason Fox has owned and operated Zellerman, a local real estate brokerage with a client list of who's who in Atlanta according to Jezebel Magazine.
Fox will run a proposal-based campaign, giving Atlantans full array of what he has to offer the city before Election Day. Jason is assembling a board of Atlanta's business and cultural leaders to help contour his over 25 proposals.
They range from lowering taxes to major government overhauls; from raising city workers pay and expectations to raising teachers' pay and educational standards; from making Atlanta a walkable, livable, and safe city to vastly increasing green space; from reducing welfare fraud to directly addressing the homeless crisis.
In announcing his candidacy, Jason Fox said, "I am a leader who brings drive, passion, determination and international experience to incorporate into a new Atlanta, as a flag ship global city, while preserving the past and traditions that makes Atlanta home."
For more information on Jason Fox please visit http://www.jasonfox2017.com.
For interviews, please call (404) 239-7500.
# # #