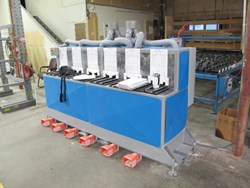 Chicago, IL (PRWEB) November 20, 2013
A live/webcast auction of Triumph Packaging will be held on November 20th at 9:00AM EST. The sale includes: Kidder-Stacey/Bobst/Lemanic 8-Color Flexo Graphic Printing/Die Cutting Line, Comco Flexographic Press, Man Rolan 6-Color Offset Press, Bobst SP126-E Auto Die Cutter, Horizontal Hydraulic Balers, Air Compressors, Toyota Lift Trucks and More. The auction will be located at 600 Poplar Drive in Thomaston, GA.
An online auction of Excess Equipment to the Ongoing Operations of MPI will begin closing on November 21st at 11:00AM CST. Included in the sale will be Blanchard, Gardner and Besly Surface and Double Disc Grinders, Feintool and Schmid Fine Blanking Presses and Coils Equipment, Furnaces, Ovens, Welders, Sanders, Riveters, Formers, CMM Compressors, Vibratory Parts Finishers, plus so much more! The assets are located in Greeneville, Tennessee and Deerfield, Wisconsin. Inspections will be by appointment only.
A live/webcast auction of Assets Excess from the Ongoing Operations and Consolidation of Alpen HPP, LLC. The sale will include, but not limited to, CNC Glass Cutting System, 3-Stage Horizontal Glass Washer, Joseph "Junior" 3-Axis CNC Copy Router, Joseph DM-4590 Dual Head Double Miter Saw, Kent Automation 3-Axis CNC Operator Routing Machine, Carlson Wegoma Vertical Glash Washer and so much more. The Auction will be located at 6268 Monarch Park Place in Longmont, CO. An inspection will take place on December 4th from 9:00AM- 10:00AM.
If you have any questions regarding any of the sales, registration or inspection, please visit hyperams.com or give us a call at (847) 499-7049.
About HYPERAMS, LLC
HYPERAMS will dispose of and/or invest in your surplus assets- whether your company is healthy or distressed. HYPERAMS focuses on providing optimal recovery value for your surplus assets by purchasing and managing the resale, collection or redeployment of: inventory, machinery and equipment, commercial accounts receivable, retail store closings, and outlet center management and fixture sales.
Do you know what your assets are really worth? Our appraisal services will answer that question by providing a quick, accurate appraisal in a wide range of industries. Whether you need to know the value of a single piece of equipment or the total value of a plant's complete asset listing, HYPERAMS is here to help you.