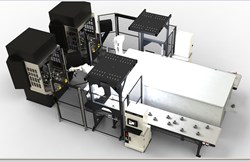 The jobs supported by this investment offer good wages and benefits, and generate a tremendous economic impact in southwest Arkansas.
Nashville, AR (PRWEB) November 21, 2013
HOPE (Hope Enterprise Corporation/Hope Credit Union) has committed $8,000,000 in New Markets Tax Credit allocation to Husqvarna Group's Nashville manufacturing facility for new plating and honing equipment for their hand-held lawn tool engine assembly. The funding will be used to purchase new machinery, which will bring the plating and honing process in-house and will be more efficient and environmentally friendly than commonly-used methods.
The new plating and honing line will create 22 new jobs at the 1,200 employee facility. Husqvarna Group operations in Nashville support more than 800 additional jobs in Southwest Arkansas.
"Partnering with HOPE on this initiative will help to bring the right tools to our facilities to help maintain our efficiency in producing outdoor power equipment," said Jack Fish, VP of Manufacturing, Husqvarna Americas. "Additionally when you can add new jobs that will support our local town and economy, that's great!"
The New Markets Tax Credit Program is run by the U.S. Treasury Department and brings private capital investments into economically distressed areas. The NMTC allocation from HOPE is being paired with a $2 million allocation from Chase Community Development Banking. Chase also served as the equity investor for the $10 million equipment purchase and installation.
"The jobs supported by this investment offer good wages and benefits, and generate a tremendous economic impact in southwest Arkansas," said HOPE CEO Bill Bynum. "Companies like Husqvarna are vital to a prosperous community, which makes it a perfect fit for our mission, and for our New Markets Tax Credits."
Rural and inner-city regions of the country have suffered from a chronic shortage of capital for economic development because private capital tends to flow toward where money is already accumulating – in fast-growing metropolitan areas. A desire to bring economic prosperity to low-income communities resulted in the federal New Markets Tax Credit program enacted by Congress as part of the Community Renewal Tax Relief Act of 2000.
"This is a great day for Husqvarna, for Chase and for Nashville, Arkansas. This investment will create jobs - which will strengthen the company, the community and the families who live here," said Wanda Clark, Vice President, Chase Community Development Banking.
Since 1976, Husqvarna has been a key employer and contributor to the economic engine of Southwest Arkansas. This investment in new equipment will bring the plating and honing process local without the need to source these components from overseas.
Using three previous allocations totaling $50 million, HOPE has financed 108 projects for a total of more than $71 million, with 23 NMTC loans for nearly $6 million in Arkansas.
About HOPE
HOPE (Hope Enterprise Corporation/Hope Credit Union) is a community development financial institution, community development intermediary and policy center that provides affordable financial services; leverages private, public and philanthropic resources; and engages in policy analysis in order to fulfill its mission of strengthening communities, building assets, and improving lives in economically distressed parts of the Mid South.
Since 1994, HOPE has generated more than $1.7 billion in financing and related services for the unbanked and underbanked, entrepreneurs, homeowners, nonprofit organizations, health care providers and other community development purposes. Collectively, these projects have benefitted more than 400,000 individuals in the Delta, Katrina-affected areas and other distressed communities throughout Arkansas, Louisiana, Mississippi and Tennessee. This impact has been substantially multiplied by HOPE's policy and intermediary efforts, which have informed and influenced the flow of public and private resources to assist disenfranchised people and places across the Mid South and nationwide.
About Husqvarna
Husqvarna Group is the world's largest producer of outdoor power products including robotic lawn mowers, garden tractors, chainsaws and trimmers. The Group is also the European leader in consumer watering products and one of the world leaders in cutting equipment and diamond tools for the construction and stone industries. The Group's products and solutions are sold via dealers and retailers to both consumers and professional users in more than 100 countries. Net sales in 2012 amounted to SEK 31 billion, and the Group had 15,400 employees on average in more than 40 countries.
About Chase
Chase is the U.S. consumer and commercial banking business of JPMorgan Chase & Co. (NYSE: JPM), a leading global financial services firm with assets of $2.5 trillion and operations in more than 60 countries. Chase serves more than 50 million consumers through more than 5,600 bank branches, 17,500 ATMs, credit cards, mortgage offices, and online and mobile banking as well as through relationships with auto dealerships. More information about Chase is available at http://www.chase.com and @Chase. JPMorgan Chase Bank, N.A. Member FDIC. Equal Opportunity Lender.