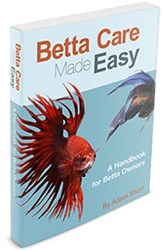 Betta Fish Care Made Easy is my answer to the large amount of misleading betta fish care information on the web. - Adam Short
Las Vegas, NV (PRWEB) November 20, 2013
Informational betta fish care resource, Betta Fish Center, launches the release of its popular eBook, Betta Fish Care Made Easy, on the Amazon Kindle platform. The eBook provides a wealth of information on proper betta fish care techniques and is now available to a wider audience.
Betta owners know that though bettas are popular, they require special care to thrive and remain free of disease. Adam Short, with more than 25 years of experience caring for bettas, realized how much betta care misinformation was being distributed online. As a result, he decided to publish an eBook to dispel the betta fish care myths and give people reliable, accurate information to keep their bettas happy and healthy.
Short is passionate about giving betta owners the right information about betta care. "I have seen too many bettas die before their time, and it saddens me that these fish could have lived if the owners had known the proper techniques," he says. "Betta Fish Care Made Easy is my answer to the large amount of misleading betta fish care information on the web."
A bestseller in its category, Betta Fish Care Made Easy for Kindle has received numerous 5-star ratings from satisfied readers. The eBook is available for download from Amazon Kindle at the low price of $4.99.
In the eBook, betta owners will get proven tips on how to create beautiful, healthy tanks where their fish can thrive; how to follow a proper feeding and cleaning schedule; how to maintain a tank to prevent bettas from getting sick; how to safely introduce other fish to the tank so no fish is harmed; how to protect betta from life-threatening diseases as well as cures and treatments, and much more.
Betta owners do not need a Kindle device to download the Kindle version of the eBook. Readers can download the Kindle app to get instant access to Betta Fish Care Made Easy on their smartphones or tablets.
When asked why he created a Kindle version of his eBook, Short said, "My eBook has been popular since 2006 and has helped thousands of betta owners raise happy, healthy bettas. I wanted to give people every opportunity to access the eBook, and now they can—on their mobile phones, tablets, or Kindle devices."
Betta Care Made Easy is also available on Nook Press (Barnes & Noble) and the iBooks platform.
About Betta Fish Center
Betta Fish Center is the web's leading betta fish care resource. It provides hundreds of informational videos and articles, as well as a thriving community where betta owners interact and get answers to their questions. Readers can download Betta Fish Care Made Easy from the Amazon Kindle platform for just $4.99.