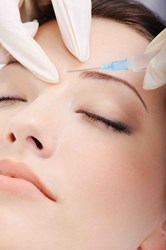 but it does take someone with serious injecting skills to get the muscle to lift instead of relax
Las Vegas, Nevada (PRWEB) November 21, 2013
There is an old English proverb that states, 'the eyes are the window to the soul.' This saying stems from a passage in the Bible, Matthew 6:22-23. A form of this quote has been traced back to Cicero who lived from the year 106 B.C. until 43 B.C. Many different poets have used this proverb including William Shakespeare. It is basically stating that by looking deeply into a person's eyes, one can tell who they truly are on the inside. But if the outside of one's eyes are to be considered, read on.
Tired looking eyes, including dark circles, lines, sagginess, bags and puffiness can add years to a person's eyes.
Step One: Erase fine lines and wrinkles. "Neurotoxins are the best option for reducing lines or wrinkles around the eyes caused by squinting, smiling, movement and motion of the eyes," says Dr. F. Victor Rueckl of Lakes Dermatology in Las Vegas, Nevada. "I prefer Botox® and Dysport® for this particular area of the eyes," he continued. "For loose skin around the eyes, I often suggest Invasix or fractionated resurfacing laser along with Botox® or Dysport®," Rueckl stated.
Step Two: Hollowing Temples. "Temples become hollow from a loss of fat, especially in those people who exercise often and we are super excited about a new product called Voluma® that's being released very soon. Right now, we can add volume with Restylane®," Rueckl said.
Step Three: Grow Thicker, Longer Lashes. "Bar none, Latisse® is one of the most wonderful products we prescribe to our patients. As people get older, their lashes tend to thin and drop out. Within 11 weeks, most people report astounding results and Latisse® is very affordable," Rueckl continued.
Step Four: Under Eye Circles Lightened and Hollows filled. "Again, we are pretty excited about Voluma® because we may be able to use this product under patient's eyes. I always think it makes such a dramatic difference when I inject fillers (hyaluronic acid) in this area and in fact it can take 10 years away in minutes," Dr. Rueckl said. "Right now I use Restylane® just below the eye socket and bleaching products by SkinCeuticals® to erase the years. But remember, and I cannot caution patients enough. If not me, choose a board certified dermatologist or plastic surgeon to inject fillers in the eye area. Too much product can create a ridge instead of the desired effect," he cautioned.
Step 5: Redefine Your Brows. As one ages, brows thin, become the dreaded gray and lose their shape with time. "A falling brow can be remedied with Botox® in the right hands. Botox® can actually create a lifting effect, but it does take someone with serious injecting skills to get the muscle to lift instead of relax," Rueckl cautioned.
The holidays are approaching and with a little planning one can go into the season looking refreshed and ready to tackle the turkey, shopping, parties, family and mistletoe! If the steps above appeal, give Lakes Dermatology a call at 702-869-6667 or visit their website at http://www.lakesdermatology.com.