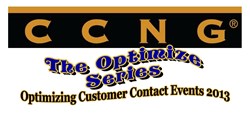 This CCNG Long Beach event provided me with best practices and the latest metrics...
Fort Worth, TX (PRWEB) November 20, 2013
CCNG International Inc. concluded their 2013 OptimizingCustomerContact.com event series in Long Beach, CA last week. This event was the last of twelve events in this series hosted by CCNG to bring together local and regional contact center, call center, customer service and customer experience mid-level management to discuss challenges and best practices relating to the People and the Process.
"We had a surplus of experience from management representing a wide range of companies in the area to create a very interactive and dynamic dialogue throughout the day" according to David Hadobas, President and CEO of CCNG International Inc. Below are some of the comments from members and attendees –
"This CCNG Long Beach event provided me with best practices and the latest metrics. The information I received at the conference helped me better determine my company's strengths and areas for improvement. I look forward to the next CCNG gathering." Julie Garner-Osuna, Customer Service Manager, Ossur Americas, Inc.
"This CCNG Optimize event struck the perfect balance between delivery of valuable information and attendee-led conversation. The format allowed for review of trends, best practices, and deep dive on topics most relevant to the group." - Maria Sanders, Plantronics.
"The best way to get to the top is to meet with those that are there and can give you a map. Attending the CCNG event was FUN, met some WOW people and came away with some new ideas." - Delia Smola, Senior Manager of Global Organizational Development, JustFab.com.
"What a great group of people and customer experience leaders sharing their challenges and ideas. From Oakley to Experian, from LegalZoom.com to Wells Fargo – it was great to hear how each was redefining service delivery. Looking forward to the next CCNG Optimize event." – Mike Garner, Chief Customer Officer, Investor & Advisor in the Customer Contact Technology Space.
The event provided two member keynotes and four thought leadership presentations –
Morning keynotes –
Easy Trumps Nice: The Case for Managing and Measuring Customer Effort and Engagement - Presented by Mike Garner, Chief Customer Officer, Investor & Advisor in the Customer Contact Technology Industry.
Optimizing Your Call Center Through Talent - Presented by Warren Bobrow, President, All About Performance.
The event sponsors from the following organizations provided case study / thought leadership on the topics of the day including –

Building Strong Agent Customer Rapport
Work At Home Strategies
Successful Workforce Optimization
Omni-Channel Service Delivery
Customer Effort / Customer Engagement / Customer Experience Management
Event sponsors included Genesys, OpenSpan, Plantronics, Voice Print International VPI and Five9.
For details on upcoming CCNG Optimize events in southern California and around the US, contact Ginger Graber, ggraber(at)CCNG(dot)com.
View program details at – http://www.OptimizingCustomerContact.com
CCNG International Inc.
Founded in 1992, CCNG is a member Professional Peer Network (PPN) for contact center and customer care executives, management and leaders. Our mission is to connect colleagues throughout the industry and spread success. The CCNG Network members share best practice insights and experience with peers from top contact center organizations throughout the industry.
Benefits of Joining the CCNG Network:
o Build and expand your network of valuable professional relationships with contact center leaders and award-winning organizations throughout the industry.
o Leverage the knowledge of an industry-wide network of experts and peers.
o Showcase top performing people and programs to build industry recognition and support operational excellence within your organization.
o Explore new ideas. Build more effective programs, raise performance, and reduce risk throughout your organization.
CCNG offers events, programs and resources to all levels of contact center, customer care and customer experience professionals. This is how good contact center organizations continue to get better. For more information about CCNG, please visit CCNG.com. "Like" us on Google+, Facebook and follow us on Twitter.
# # #