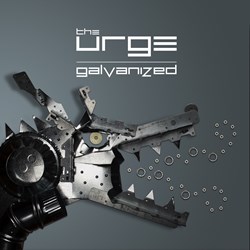 St. Louis, MO (PRWEB) November 21, 2013
Arguably the most successful St. Louis-based band still making music today, The Urge has combined an eclectic mix of sounds since forming in 1988. By bringing together a mix of ska, funk, metal, reggae and hard rock, the band has created a sound all its own. "Galvanized" was self-produced and self-released after a nearly three-year process since the band reunited in early 2011 after a long hiatus.
"We had our hands on it from beginning to end. We produced it, mixed it – we did everything on our own. This time around, the work is all on us and we're pretty proud of that," said Steve Ewing, founding member and frontman. "After three years, I think 'Galvanized' is a good representation of the band and a good body of work."
This is The Urge's first studio album since 2000's "Too Much Stereo." In 2012 the band self-released "All The Way Live," a double album and DVD recorded at The Pageant in November 2011. To celebrate that release, the band returned to the Pageant in November 2012 for three shows where they debuted several of the new songs on "Galvanized."
"There was a time when we'd get off the road from touring and then sit down and write and record songs. 'Too Much Stereo,' 'Master of Styles,' those were written in the studio and we learned how to play those songs after we recorded them," Ewing said. "The songs on 'Galvanized,' we've already played them live and gotten used to them before we recorded them. By the time we got to the studio, we felt really confident about the songs. It's a much better process for us."
Longtime fans of The Urge will recognize the blend of influences of the band on "Galvanized."
"It's really hard to describe our band. On the new album, we've got a punk song, some metal songs. We've got some that have a reggae thing going on. There are a few ska songs and a few I can't even define," said Karl Grable, bass player and another founding member. "I love just how organic we're creating music now. We're not trying to force anything. We get in a room and come together and every idea gets a fair shake."
The first single off the album, and already in rotation on modern rock and alternative radio stations, is "Out On The Fringe."
"Melodically it's a different kind of song," Ewing said of the first single. "Typically in our songs, the guitar matches the bass. With that song, the guitar plays alone. That song presented a little challenge for me because it's a little different than what we normally do, but I'm really digging the song."
The Urge will return to the Pageant for a three-night run of shows this month on Nov. 22, 23 and 29. For a band that's been together for much of the last 25 years, they still put on a high-energy show. They still get as hectic onstage as they did two decades ago.
"A lot of people who checked us out in the 1990s hearing us play puts them in a place in time in their minds. We take them back to a different time," Grable said. "We're just so grateful that people want to come to the show. Most of the people in the crowd have been fans for so long, we owe it to them to give everything we've got to make it the best, craziest show possible.
"We want people to come and have the best time they've ever had. Maybe some people haven't seen us for a long time. My hope is that people walk away smiling, feeling energized. That makes me a happier person."
The Urge is:

Steve Ewing — lead vocals
Karl Grable — bass
Jerry Jost — guitar
Matt Kwiatkowski — trombone
John Pessoni — drums/vocals
Bill Reiter — saxophone/keyboards/vocals
The Urge's "Galvanized" is now available at the band's website and on iTunes.
For more information, contact Brandi Welty at bwelty1969(at)gmail(dot)com.