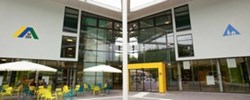 DJH Duisburg Sportpark opened in September, and is already a magnet for international groups and student travelers who seek amazing value and convenience
Duisburg, Germany (PRWEB) November 20, 2013
Drive by and you might mistake the new DJH Hostel, "Youth Hostel Duisburg Sportpark," for a designer sports hotel, but it's the latest hostel among the many modern properties of Germany Youth Hostel Association and non-profit DJH. DJH Duisburg Sportpark opened in September, and is already a magnet for international groups and student travelers who seek amazing value and convenience.
Located on a massive 200 hectare sports and recreational complex – one of Germany's largest sports parks - the new hostel is not only surrounded by sports facilities and lakes for all kinds of indoor and outdoor sports, including soccer, ice-hockey, waterskiing and other water sports, but it also features its own large gym and fitness area, two beach volley ball courts, and lawns, making it the perfect choice for any sports-centered group travel.
But it's more than a hostel for sports groups. Like many of its properties, DJH Duisburg Sportpark is also a major conference location. With 7 meeting rooms, an in-house bistro, 30 double and 40 four-bed rooms, it's a perfect choice for combining top-notch modern meetings with off-meeting options.
With prices starting at 27 euros per person per night in a multi-bed room or 50.50 euros for a single room, including all-you-can-eat breakfast buffet and all taxes, DJH Duisburg Sportpark offers one of the best price/performance ratios in the market for any traveler, family or group.
Moreover, with in-house meeting specialists and an extensive catalog of activities that can be booked right through the hostels reservation office, DJH Duisburg Sportpark is a true one-stop shop for any group travel program. Offers include guided city tours and excursions well beyond the sports park.
For more information and to book, please visit: http://www.duisburg-sportpark.jugendherberge.de.
DJH Hostel Duisburg Sportpark is part of the German Youth Hostel Association Rhineland, an association of 35 hostels. A non-profit organization, DJH City-Hostels is committed to providing superior budget accommodations in the cities of Düsseldorf, Cologne, and the Rhineland region to individuals, groups, and families for business and leisure travel. For more information, visit: http://www.jugendherberge.de/en/.