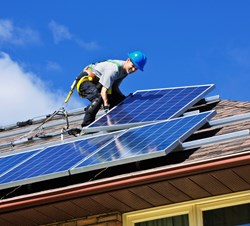 Richardson, TX (PRWEB) November 19, 2013
A new office in Richardson, TX was recently secured to handle the extra load on the new services for solar panel installation in Richardson. Ron Lewis stated, "Whether there is no power, single phase or three phase power, our team of installation experts is able to plan, design, & engineer an optimum system array to power any home or business in Richardson. Every design and panel layout is custom made to accommodate the existing structure in the most efficient way possible."
A complete structural analysis of the existing home or building is completed to verify proper specifications for all panels, inverters, and components. All options and possibilities are carefully planned to obtain the maximum amount of energy with an optimum installation. Plans are drafted which are then submitted to the City of Richardson for approval to obtain any necessary building permits for the solar panel installation project's final inspection.
A thirty percent federal rebate is offered to the people residing in the great State of Texas looking to get a new solar panel installation. A photovoltaic installer will complete the necessary paperwork in order to insure that the local utility provider will reserve the proper funding reservation through the local provider. Long days and sunny skies make Texas a great place for harnessing solar energy.
The experts at Supreme Electric & Solar offer the best solar panel installation in Richardson, TX. These insured, certified, licensed, experienced professionals have been installing solar panel arrays and inverters for years and are able to explain the details of how the sun is converted to electricity. Residents in Richardson Texas who consume less electricity than they produce are able to sell the excess energy back to certain electric utility providers to be consumed by their neighbors.
Obtaining and installing solar panels in Richardson is easy and hassle free when using according to the experts at Supreme Electric & Solar. A simple phone call to these solar panel installation experts with the previous year's average monthly usage or preferably the previous year's monthly electricity statements will allow an approximate amount of the investment. The friendly staff of electricians is extremely knowledgeable concerning all types of solar array installation and they provide the best customer service possible.
Deciding to "Go Green" and invest in solar power with a new solar panel installation is a great choice for the environment, future and economy. The advantages of Solar panels are numerous but includes, another layer of insulation to the rooftop, the energy is renewable or "Green," solar panels increase your property value, the return on investment is 7 – 9 % during the first year, pay-off is only 10 years, they can be insured against failure for up to 30 years and can provide upwards of 50 years of life. Think of all the money that can be saved over the course of 50 years with a new solar system.
Supreme Electric and Solar is a licensed electrical contractor & electrician specializing in residential and commercial Solar Panel Installation in Richardson, TX. For more information, call 469-554-8658 or visit the website at http://www.supremeelectricandsolar.com/solar_panels_dallas.html.