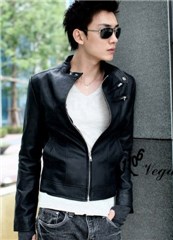 (PRWEB) November 25, 2013
Recently, 4leafcity.com, a renowned clothing company, has announced its new collection of men's hoodies. Furthermore, these clothes are now offered with big discounts, up to 54 percent off. The promotion will be valid until December 31, 2013.
A lot of people think that cheap clothes always come with low quality. That makes sense in most of the cases, while at 4leafcity.com, low price does not always mean low quality. At the company's online shop, all high quality products are available at the most cost-effective prices. The new range of men's hoodies is no exception. According to the CEO of 4leafcity.com, these new items are the best men's hoodies from the company.
"As we all know, hoodies can keep people warm. That's why we announce this new collection. We want to help customers keep away from the coldness and enjoy the coming winter." The CEO states excitedly, "Clients who are planning to purchase men's hoodies on the Internet should visit our website now."
The products include many fashionable styles in the current market. At present, the best-selling item is a black one called 3-Ruler Men's Black Fleece Full Zip Button Hooded Sweatshirt Hoodie, which is priced $12.99 only. All the company clothes are guaranteed to be "top designers approved".
About 4leafcity.com
4leafcity.com was founded in 2009 and serves more than 5000 customers from every part of the world. It is one of the leading suppliers of men's and women's clothes, helping the people worldwide develop self-esteem, confidence and love of learning. For a full list of services and to learn more about 4leafcity.com, please visit http://www.4leafcity.com/product-hoodies-sweatshirts-009007.aspx.