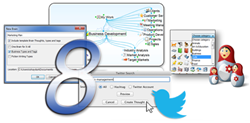 TheBrain 8's new Timeline View enables deeper insight and understanding of users' unique work habits and thinking.
Los Angeles, CA (PRWEB) November 20, 2013
TheBrain Technologies, the leading provider of dynamic visualization and knowledge management software, announced its newest release, TheBrain 8.
TheBrain software's unique approach to information organization enables users to create and link together thousands of digital Thoughts. TheBrain software has been downloaded by over a million users and over half of the Fortune 100 organizations use TheBrain for digital brainstorming, project management, and as a complete knowledgebase to find and connect their information.
TheBrain's marque context-driven, visual interface offers users an alternative to linear note taking apps, hierarchical file/folder sharing services and conventional mind mapping, by dynamically visualizing and reorienting users' "Thought display" each time a topic is selected. TheBrain's no limits semantic network and linking technology enables an unlimited number of topics, links and disparate data sources to be connected and navigated.
With faster application start up, enhanced multi-threading technology and multiple user interface updates, TheBrain 8 gives users even more powerful desktop visualization. TheBrain 8 augments the software's data management capabilities by offering over 1500 icons to amplify key ideas, new visualization options and knowledge templates with prebuilt Thought zones, Types and Tags for ready-made semantic visualization.
"TheBrain 8's new Timeline View enables deeper insight and understanding of users' unique work habits and thinking. You can access all relevant associative connections through an instantly available chronological entry point," said Harlan Hugh, TheBrain Technologies' CEO. "Additionally with TheBrain 8 pre-populated knowledge templates users can leverage our Solution Team's best practices right out of the box and get started quickly."
TheBrain 8 has over 50 new features and enhancements including:

Quick Start Brains with Prebuilt Tags, Types and Knowledge Categorization – TheBrain 8 enables fast and easy knowledge visualization. Users can import select Brains when starting or import template knowledge into existing Brains. TheBrain 8 features a "One Brain for it All" which provides key Thoughts for business planning, department mapping and personal organization. Other knowledge templates include IT and helpdesk management, education planning, exclusive business visualization, as well as brainstorming and goal-directed project templates.
Over 1500 New Icons for Thoughts– TheBrain 8 lets users add more meaning to capture great ideas. Choose from a wide range of icons, including categories like technology, businesses, art and education. Icons can be added to each Thought or setup as Thought Types for ongoing and consistent data management. A new Thought Types Tab makes creating data structures and sophisticated ontologies fast and simple.
Visualization of Thoughts with Timeline View– Thoughts are now instantly viewable by time. With a single click, users can view a summary of Thoughts by day, providing another avenue to make accessing knowledge even faster.
Twitter Search Integration and Quick Create Thoughts– Users can track online trends and hashtags from Twitter in their Brains. TheBrain 8 Twitter search and Thought linking lets users search for key tweets on their Thoughts and link to relevant streams. TheBrain 8 also enables instant, no-clicks required Thought creation right from TheBrain search box to capture ideas immediately at any time.
Improved User Interface and Streamlined Data Synchronization– TheBrain 8 features enhanced Brain management for multiple Brains, new online Brain options, output of Thoughts as an image, streamlined data synchronization and new Mac OS X enhancements, including improved Retina display support.
TheBrain 8 Pricing and Availability
TheBrain 8 is available for immediate download at http://www.thebrain.com and is offered in two editions: Free and Pro. TheBrain Free is offered at no charge. The Free edition does not expire and lets anyone link ideas and Web pages on their desktops and in the cloud. TheBrain Pro offers unlimited file management, advanced search, secure cloud backup, and much more. You can purchase TheBrain Pro as a desktop license only for $219 or with both the license and one year of services for $299, which includes future upgrades and the full suite of online sync and other cloud services.
TheBrain 8 Upgrades
The Brain 8 is a free upgrade for everyone with a Brain Service Plan including TheBrain Pro Combo and TeamBrain Services users. Users who purchased TheBrain Pro license after July 15, 2013 can also receive a complimentary upgrade. Discounts are available for all existing license owners at http://www.thebrain.com/store/upgrade/.
TheBrain offers an all-inclusive software upgrade and cloud services plan for $159 per year. TheBrain Service Plan includes

All upgrades as long as your subscription is valid
Online access of your Brain from a Web browser
Backup of your Brain online automatically
Synchronization of your Brain across multiple machines
For more information on TheBrain Service Plan, please visit TheBrain.com store, call 310-751-5000 or email sales(at)thebrain(dot)com.
About TheBrain Technologies
TheBrain Technologies helps people see, share and find information faster. TheBrain software helps organize and capture ideas, projects and information on the desktop, in the cloud, and in the mind's eye. Download TheBrain 8 at http://www.thebrain.com to visualize thinking or e-mail info(at)thebrain(dot)com for more information.
TheBrain, PersonalBrain and WebBrain are trademarks or registered trademarks of TheBrain Technologies LP. All other corporate names or trademarks stated herein are the property of their respective owners.