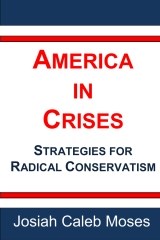 "No Representation without Taxation"
Jacksonville, Florida (PRWEB) November 21, 2013
The author is a native born American who suggests considering the notion of requiring the payment of Federal taxes as a prerequisite for voting rights in Federal elections by stating, "We might need to think about coining a new phrase in America, No representation without taxation". This is an obvious juxtaposition to the Boston Tea Party's "no taxation without representation".
He also says, "…perhaps we need to coin a new phrase in America, 'Big Mother', on whose teats the laggards and sluggards can depend for their daily sustenance".
Radical conservative strategies are offered to address America's many crises including the values crisis, border security, welfare, education, crime, Federal government abuses and more. Conservatives will find these strategies positively intriguing. Progressives will find them quite ominous.
The author's intent is to motivate conservative Americans to a "Call to Action" to take radical actions to "Take back" America.
"America In Crises Strategies For Radical Conservatism" is available at:
https://www.CreateSpace.com/4448067
This new book may also be found by title at Amazon.com.
Contact:
Josiah Caleb Moses
Email: JosiahCalebMoses(at)comcast(dot)net
904-325-3654
1965 A1A South
PMB # 127
St. Augustine, FL 32080-6509