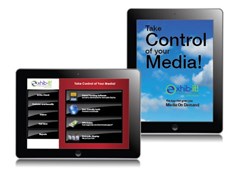 In today's competitive market place, companies need to offer state of the art technology for their customers to crush the competition.
Albuquerque, NM (PRWEB) November 20, 2013
The Media on Demand Trade Show App offered by EXHIB-IT! displays custom, branded collateral and manages an exhibitor's literature and media by specific category. Capabilities include the ability for sales and marketing staff as well as prospective and current customers to share a virtual marketing showroom, view each piece in full view, zoom in on illustrations and charts, and send an email pdf directly to prospects and customers from a tablet or cell phone on the exhibit floor.
A key feature is on-demand video, which quickly illustrates the features and benefits of an exhibitor's products. Media On Demand gives businesses total control to manage an unlimited number of devices, create new custom literature categories, store all their media in a secure web environment and distribute the content to all their users. It also tracks the actions of attendees who received data, tracks sales that result, and can create a report with metrics. This new app is the ideal tool for sales staff on-the-go who need targeted marketing and sales materials at their fingertips. It also improves the attendee trade show experience by literally lightening their load.
Over seventy percent of materials distributed at tradeshows are thrown away. Convention goers generate about 600,000 tons of trash every year, making the tradeshow industry one of the most paper intensive industries. Media On Demand's instant digital downloads support businesses "go green" efforts by reducing the historical environmental impact of exhibiting, and may increase an exhibitor's revenue by reducing design and production costs.
According to DJ Heckes, industry thought leader and CEO of EXHIB-IT! Tradeshow Marketing Experts, "Today's trade show attendee demands immediate digital information which has reduced the traditional sales funnel follow-up to minutes versus days or weeks. Attendees no longer want handful of random printed materials stuffed into a sponsor bag. They are too busy with the deluge of daily online content and want to review relevant information on their terms and their time."
EXHIB-IT! offers this new technology through Nomadic Display, to add more value to their customers' sales pitch. There are two packages offered:
1. Permanent usage for this new Media on Demand App with the purchase of a one-time license plus selection of an annual hosting fee package.
2. 30 Day Usage/per event Usage without having to purchase a license.
These two choices allow exhibitors the ease of handling their sales process and are totally dependent on their desired personal involvement.
"Innovation is a contact sport," said Heckes. "In today's competitive market place, companies need to offer state of the art technology for their customers to crush the competition. By using Media On Demand, exhibitors win the race to top of mind awareness by delivering information as requested by current and prospective customers on the spot."
About EXHIB-IT!
EXHIB-IT! is a design and display company that specializes in high quality trade show displays and trade show management services. Industry thought leader and EXHIB-IT! CEO DJ Heckes has prioritized customer education as a core company value by publishing hundreds of helpful blog posts, online newsletters and white papers on tradeshow related topics. In 2014, EXHIB-IT! will continue its commitment by co-hosting an educational webinar training series with Reno-based Marketing to Go called, "The Noise Behind Business: How to Make Tradeshows Work."