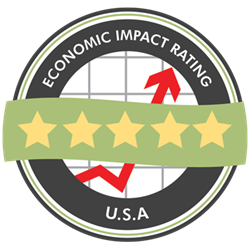 Consumer Reports for Made in America
Boston, MA (PRWEB) November 20, 2013
The Economic Information Exchange Company, creators of the 'Economic Impact Rating', announced the launch of their IndieGoGo.com crowdfund campaign. The campaign is aimed at raising money to begin a national campaign to introduce and educate consumers about the rating. Economic Impact Ratings are a patent pending method that looks at several factors to determine how much of the purchase price-- how much of the money a consumer is handing over-- will be captured in America's Economy.
Analysts look through raw materials, inputs, overhead, taxes, charity and more to determine how much of each specific product is flowing into a specific economy. They look to offer a full line of ratings that will look at different areas: Nationwide, Regional, Statewide, and select cities. The 'American Economic Impact Rating' will look at the American Economy. The 'Boston Economic Impact Rating' will look at Boston's Economy. The California Economic Impact rating will look at the state of California's Economy, so on and so forth.
Anthony Comito, founder of the Economic Information Exchange company and creator of the Economic Impact Rating, says, "We've found that, if we can get the idea in front of people-- which is no easy task-- but if we can get the idea in front of people, they really, really like it". The issue is that a nationwide advertising campaign is expensive--- something a small startup like ourselves typically can't afford. With sites like IndieGoGo and Kickstarter, we can literally kickstart our company, and hopefully kickstart the economy.
Venture capitalist want immediate results. In fact, they usually want to see past results--- something that is tough to show for a new startup-- especially one dependent on widespread consumer support like the Economic Impact Rating. The crowdfunding revolution has changed that. Now companies can use sites like kickstarter to fast track projects that VCs would normally ignore, or never even see. From charitable causes to truly inspiring ideas-- IndieGoGo is giving companies the boost they need to make things happen.
The Economic Information Exchange Company hopes the campaign will not only raise some money, but drum up consumer support and show companies that consumers do care-- and want to see the effects of their purchases. Mr. Comito says, "The fastest way to economic prosperity isn't through congress-- it comes when consumers guide the economy with the most important vote they have-- the one they make with their wallets."