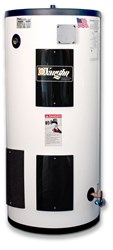 Vaughn ME-Series water heaters have an average life expectancy of 28 years.
Fairview, Oregon (PRWEB) November 20, 2013
GP Conservation is now featuring the entire suite of energy saving Vaughn ME-Series electric water heaters expected to last 2-5 times longer than standard electric water heaters. Vaughn water heaters are available in sizes ranging from 30 gallons to 120 gallons to meet the hot water needs of families large and small. GP Conservation sells Vaughn water heaters to consumers and contractors – and ships for free to most locations in the continental United States.
GP Conservation is pleased to distribute uniquely constructed Vaughn water heaters. Standard electric water heaters are built with mediocre tank construction methods, and depending on local water conditions, they last only about 10 years. Most standard electric water heaters are built with a tank made of steel that is just 1/8 inch thick. The steel is thinly coated with glass or porcelain to protect it from direct contact with the water. Over time, the glass or porcelain lining will fail, thus enabling rust and corrosion, which eventually results in irreparable water heater leaks. In comparison, Vaughn water heaters are built differently: A durable ½ inch layer of specialized Hydrastone® cement lines the inside of Vaughn water heaters. When a Vaughn water heater is filled, the Hydrastone® absorbs some of the water. This water becomes trapped in the Hydrastone® and soon loses its oxygen, making it inert. This process creates a long lasting protective barrier from aggressive water, and is one reason why the Vaughn ME-Series water heaters have an average life expectancy of 28 years.
GP Conservation specializes in distributing energy efficient products, and is proud to offer these efficient Vaughn water heaters. Older standard electric water heaters are poorly insulated, often losing as much as 20% of the heat stored in the tank every 24 hours if left without power (known as standby losses). Vaughn ME-Series water heaters, on the other hand, are extremely well insulated with a 3-inch layer of insulation that minimizes the heat loss from the stored hot water. The Vaughn ME50 water heater with a 50 gallon tank, for example, cuts the standby losses to just 5%.
GP Conservation carries a wide variety of differently sized Vaughn water heaters. The 30 and 40 gallon Vaughn water heaters (Vaughn ME30 and Vaughn ME40) are appropriate for most 1-2 person households. Homes with 3-4 occupants should consider a 50 gallon Vaughn ME50 or 60 gallon Vaughn ME60 water heater. Larger households with 5-6 people can be served with a 70 gallon Vaughn ME70 or an 80 gallon Vaughn ME80 water heater. Most 7-8 person households can get ample hot water with the Vaughn ME120, which features a 120 gallon tank.
GP Conservation carries a wide selection of Vaughn water heaters in-stock. Consumers and contractors can conveniently shop for Vaughn water heaters online 24/7. Factory trained GP Conservation staff is available discuss your Vaughn water heater needs via email and phone Monday through Friday, 7AM-5PM PST.
About GP Conservation
GP Conservation is an e-commerce retailer for consumers and contractors in the area of energy and water conservation products. GP Conservation has been operating as online retailer since 2002. GP Conservation sources a wide selection of specialty products from manufacturers that are committed to quality conservation products.