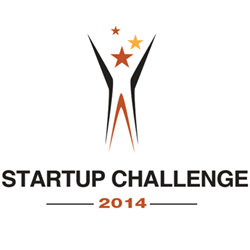 Competitions such as ours are important vehicles for encouraging and fostering innovation and economic growth.
Seaside, CA (PRWEB) November 20, 2013
The organizers of the Monterey Bay Regional Business Plan Competition today announced that the competition is changing its name to The Startup Challenge to reflect the broader reach of the Challenge to bring new ideas and new resources to the region.
"Competitions such as ours are important vehicles for encouraging and fostering innovation and economic growth," said The Startup Challenge Chair, Brad Barbeau, faculty at the College of Business at CSUMB. "We are growing up from being an event into accelerating the growth and success of all entrepreneurs for the benefit of our region."
The competition has served more than 250 innovators and entrepreneurs in its first four years with experience and training in presenting their business concepts to funders, banks and the public. Going into the 2014 competition, the Challenge is adding in-depth workshops and enhancing the feedback to the competitors to provide entrepreneurs with more skills and knowledge and to help competitors move their ideas rapidly toward reality.
To date, more than $200,000 in cash and services have been awarded. The 2014 Startup Challenge anticipates prize packages of cash and services valued at $50,000 for the Venture category, $10,000 for the Main Street champions, and $5,000 for the Student champions. Three workshops about The Startup Challenge have already been scheduled for the remainder of 2013 with more than 10 expected in January and February. Key dates for The 2014 Startup Challenge are:

First round applications must be submitted by Monday, March 10, 2014
First round pitching event is held Friday, March 28, 2014 at CSUMB
The final event, open to the public, is Friday, May 2, 2014 at Monterey Institute of International Studies
Though the name has changed, the job-creation and innovation emphasis remains on the tri-county area of Santa Cruz, Monterey and San Benito. The name change is intended to foster more inclusiveness of the counties' constituents who do not live near Monterey Bay. It also allows the organizers to reach beyond the tri-county area and more easily draw both entrepreneurs and investors from beyond the region to create jobs here.
Historically, 63% of applicants have been from Monterey County, 27% from Santa Cruz County, 3% from San Benito County, and 7% from other counties, states and countries. All past "Innovator of the Year" venture champions have come from Monterey County.
For more information on The Startup Challenge, to find out how to be a sponsor, or to register to attend for workshops, visit the competition's website at http://www.TheStartupChallenge.org or call 831-582-3230. The Startup Challenge is on Twitter at http://www.twitter.com/StrtupChallenge or like the Facebook page at http://www.facebook.com/TheStartupChallenge .