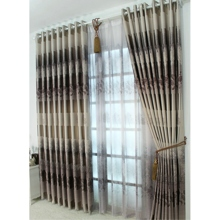 (PRWEB) November 25, 2013
Ogotobuy.com is a distinguished curtain manufacturer based in China. Today, the company has updated its website with a big promotion of its beautiful curtains. All customers from around the world can seize the opportunity to buy cheap curtains at its online shop.
The updated website of the company is now easier to navigate, and customers can get their favorite curtains by only clicking a mouse for a few times. The whole purchasing process is secure. In addition to the promotional price, the company also provides coupons to all new and old customers.
Wesley, a sales manager of the company, says, "We have various kinds of products in stock. Welcome to our online shop to enjoy the great discounts. For those who are looking for wonderful curtains, this promotion will be a good chance for great savings. Among all the beautiful items, we strongly recommend two styles: country curtains and floral curtains."
The CEO states, "We are proud to have so many loyal customers across the world. In addition to affordability, reliability, and stability, we want to provide a one-stop shopping experience for our clients."
Ogotobuy.com's items can be sorted into 20 colors: purple, white, red, blue, etc. The company states that shoppers should visit their online shop as early as possible in order to get the best deals. Discounted shipping costs are provided by Ogotobuy.com.
About Ogotobuy.com
Ogotobuy.com is a professional manufacturer and retailer of household products.The company assures that all its goods are designed, tailored, and made by its experienced team. The company aims to supply high quality products at affordable prices to its customers worldwide. More details at http://www.ogotobuy.com/cheap-curtains-c-1_2_25.html.