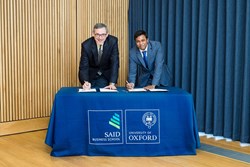 Oxford, Oxfordshire (PRWEB UK) 20 November 2013
Zamir Telecom, a global telecommunications company, today announced a gift of £45,000 to Saïd Business School, University of Oxford to establish the Zamir Telecom MBA Scholarship.
The gift, of £15K per year for three years, will fund one scholarship annually for a promising young professional from the technology sector studying for the Oxford MBA programme. It is open to applicants from an emerging economy (Africa, Asia or Middle East) or to those from other countries who have an interest in technological advancement in these areas. Zamir Telecom views these regions as future hubs for innovation and the scholarship will allow individuals with extraordinary intellectual and professional talent to connect with the organisation in the UK and its operations in emerging economies and enable them, through the Oxford MBA, to develop and realise their potential as future leaders and innovators in the sector. In addition to the scholarship funding, Zamir Telecom will also provide each scholar with a paid internship and a 1 year employment contract on graduation.
Naufal Zamir, Managing Director of Zamir Telecom and Peter Tufano, Dean of Saïd Business School made the announcement yesterday at a ceremony to mark the launch of the scholarships. "This is a generous gift and we are grateful to Zamir Telecom for their benefaction for these scholarships," said Peter Tufano. "There are many talented young people around the world and this gift will enable us to open up the opportunity for them to make connections they would otherwise never make and go on to shape the future of technology provision in the emerging economies."
Naufal Zamir said, "Zamir Telecom is committed to sourcing the best talent and is delighted to partner with Saïd Business School to provide assistance to extraordinary candidates for this scholarship. I firmly believe it will unleash their intellectual creativity and advance their career development opportunities globally. We are looking forward to this partnership with one of the most prestigious business schools and universities in the world".
For further information, please contact the Press Office:
Clare Fisher,
Mobile: +44 (0) 7912 771090; Tel: 01865 288968
Email: clare(dot)fisher(at)sbs(dot)ox(dot)ac(dot)uk
Josie Powell, Press Officer,
Mobile +44 (0)7711 387215, Tel: +44 (0) 1865 288403 Email: josie(dot)powell(at)sbs(dot)ox(dot)ac(dot)uk or pressoffice(at)sbs(dot)ox(dot)ac(dot)uk
Notes to editors
1. About Saїd Business School
Saïd Business School at the University of Oxford blends the best of new and old. We are a vibrant and innovative business school, but yet deeply embedded in an 800 year old world-class university. We create programmes and ideas that have global impact. We educate people for successful business careers, and as a community seek to tackle world-scale problems. We deliver cutting-edge programmes and ground-breaking research that transform individuals, organisations, business practice, and society. We seek to be a world-class business school community, embedded in a world-class University, tackling world-scale problems.
In the Financial Times European Business School ranking (Dec 2012) Saïd is ranked 12th. It is ranked 13th worldwide in the FT's combined ranking of Executive Education programmes (May 2013) and 24th in the world in the FT ranking of MBA programmes (Jan 2013). The MBA is ranked 5th in Businessweek's full time MBA ranking outside the USA (Nov 2012) and is ranked 5th among the top non-US Business Schools by Forbes magazine (Sep 2013). The Executive MBA is ranked 23rd worldwide in the FT's ranking of EMBAs (Oct 2013). The Oxford MSc in Financial Economics is ranked 6th in the world in the FT ranking of Masters in Finance programmes (Jun 2013). In the UK university league tables it is ranked first of all UK universities for undergraduate business and management in The Guardian (Jun 2013) and has ranked first in nine of the last ten years in The Times (Sept 2013). For more information, see http://www.sbs.ox.ac.uk/
2. About Zamir Telecom
Zamir Telecom Limited (http://www.zamirtelecom.com) is an established telco in the carrier market, providing innovative solutions backed by best-in-class customer support. As part of our key services, we offer wholesale A-Z termination through our multiple direct interconnects with PTT / Tier 1 / Tier 2 and mobile operators. We also specialise in data services and IPLC, and we have a proven track record in providing white-label managed services to other service providers. We enable smaller telecom providers the ability to use our switch partitioning facilities to minimise their start-up costs. This includes enabling resellers / channel partners to offer multiple voice services using our infrastructure.
Zamir Telecom is the parent company of simplecalll (http://www.simplecall.com), a customer-focused retail brand that offers a wide range of services aimed to simplify users' routines with innovative and easy-to-use solutions.
ENDS