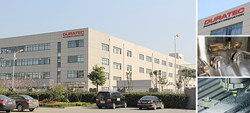 (PRWEB) November 20, 2013
Chinese injection molding company DuratecPlastics.com offers premium mold designs and consulting services for businesses. Today, the company announced that great discounts are now offered on all its mold designs.
DuratecPlastics.com is a website that provides in-depth mold information and support for companies embarking on mold products. Its designs are widely used in many industries. The company has applied many professional machines like wire cutting tools, CNC, EDM and more to ensure all products at a very high quality level.
"We are happy to announce the promotion, and we have been growing significantly in the global molding markets. Our newly introduced custom 3D mold designs are especially popular in the market. We know that different people may have different requirements, and we have the ability to serve them better," the CEO of the company states.
So many injection molding companies have appeared recently, but most of them on the market right now don't really seem to be living up to the hype. DuratecPlastics.com has experience in all kinds of plastic injection molding products. The company hopes to increase the value of its finished items through state-of-the-art technologies.
"Our hope is that our products help people live more freely, and will better equip businesses with the insight and skill required to develop truly innovative mold designs," continued the CEO.
About DuratecPlastics.com
DuratecPlastics.com is the website owned by Duratec Industries Ltd. It specializes in plastic injection molding and plastic product assembly. The business is located in Suzhou, which is a major tourist city in China. The company owns a modern manufacturing and warehousing facility as large as over 12,000 square meters.
More details at http://www.duratecplastics.com/.