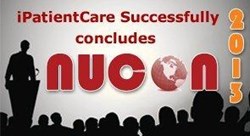 'I am using iPatienCare since it was launched in the market and I must say that it is a very physician-friendly application. I used two other EHR before I switched to iPatientCare.' - Muhammed Idress, MD, Pediatric Associates of Batavia, LLP
Woodbridge, NJ (PRWEB) November 21, 2013
iPatientCare, Inc., a pioneer in mHealth and cloud-based ambulatory EHR and integrated Practice Management solutions announced today the successful conclusion of its National User Conference (NUCON) 2013 that provided end users and channel partners of iPatientCare with the 2014 Edition Meaningful Use Stage 2 Certified EHR and integrated Practice Management System, Patient Portal, and Health Information Service Provider (HISP). The conference ended with a great fanfare and tremendous excitement among the attendees and exhibitors, who were extremely excited for reassembling again for numerous regional conferences during the year and the grand National User Conference 2014.
"NUCONs are more like a passion at iPatientCare. We take pride in identifying us as a terribly flat organization. We believe, we exist to serve you and delight you by delivering cutting edge healthcare IT solutions that are extremely easy-to-use and secure, said Udayan Mandavia, President/CEO, iPatientCare as part of his inspiring Keynote Address, which kept attendees cheering and applauding iPatientCare's growth and achievements over the past year."
Kedar Mehta, CTO, iPatientCare, shared the platform with Mr. Mandavia during the Keynote and provided a sneak preview of Meaningful Use Stage 2 certified 2014 Edition of iPatientCare EHR and integrated Practice Management, Patient Portal, Health Information Exchange, and mobile Point-of-Care Solutions. Mr. Mehta's demonstration of some of the key features of the iPatientCare product suite, such as, ICD-10 and SNOMED code search, iPad based charting, Personal Health Record solution – Wellidity.com, and Meaningful Use Stage 2 Dashboard won accolades and cheerful ovation from the attendees of the conference. He also commented, "iPatientCare R14 will be a game changer because of its ease-of-use and focus on Web, wireless, and mHealth."
"NUCON 2013 was a great experience," said Skye Brooks, Paul Hankenson DO, Michigan. Adding further to her experience, she said, "We had one-on-one meeting with the CTO of the Corporation which provided me with a privilege to discuss my practice's needs and our vision of future releases of iPaitentCare suite of products. I am impressed with the dedication of the iPatientCare."
Muhammed Idress, MD, Pediatric Associates of Batavia, LLP, said, "I am using iPatienCare since it was launched in the market and I must say that it is a very physician-friendly application. I used two other EHR before I switched to iPatientCare."
"We want to congratulate the iPatientCare team for a very successful 2013 User Conference. It was very well organized, and everyone was very helpful. We really appreciate being a part of this great event and are looking forward to exhibiting and sponsoring the NUCON 2014," remarked David Berlad, Vice President, Easy Pay Solutions.
The grand-finale of the conference was a quiz and Grand Lucky Draw giving away prizes worth thousands of dollars. All attendees and exhibitor/sponsors enjoyed and appreciated the prizes from Apple, Dell, HP, BestBuy, and Macy's.
More information on the conference can be found at: http://www.ipatientcare.com/Nucon13.aspx.
About iPatientCare:
iPatientCare, Inc. is a privately held medical informatics company based at Woodbridge, New Jersey. The company is known for its pioneering contribution to mHealth and Cloud based unified product suite that include Electronic Health/Medical Record and integrated Practice Management/Billing System, Patient Portal/PHR, Health Information Exchange (HIE), and mobile point-of-care solutions that serve the ambulatory, acute/sub acute, emergency and home health market segments.
iPatientCare EHR 2014 (2.0) has received 2014 Edition Ambulatory Complete EHR certification by ICSA Labs, an Office of the National Coordinator-Authorized Certification Body (ONC-ACB), in accordance with the applicable eligible professional certification criteria adopted by the Secretary of Health and Human Services (HHS).
Full certification details can be found at CHPL.
The ONC 2014 Edition criteria support both Stage 1 and 2 Meaningful Use measures required to qualify eligible providers and hospitals for funding under the American Recovery and Reinvestment Act (ARRA).
The company has won numerous awards for its EHR technology and is recognized as an innovator in the field, being a pioneer to offer an EHR technology on a handheld device, an innovative First Responder technology to the US Army for its Theatre Medical Information System, the first to offer a Cloud based EHR product. iPatientCare is recognized as one of the best EHR and Integrated PM System for small and medium sized physicians' offices; has been awarded most number of industry Awards; and has been recognized as a preferred/MU partner by numerous Regional Extension Centers (REC), hospitals/health systems, and academies.
Visit http://www.iPatientCare.com for more information.