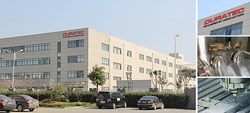 (PRWEB) November 21, 2013
Recently, DuratecPlastics.com, a leading injection molding manufacturer, has announced a new collection of plastic PVC boxes. These high quality plastic injection products can be made in all sizes as well as in any color.
The PVC boxes' surface finishes include texture, polishing, mirror plating, printing, and so on. These boxes can be used in a variety of applications including industrial use, furniture use, home use, lamp use, sports equipment and more. They come with a creative bottom that keeps out unwanted critters and makes the box stay clean and dry. According to a spokesman for the company, the new products are specially created for global mold distributors and trade companies.
DuratecPlastics takes pride in providing well designed and manufactured products to its customers in a timely manner. The company has an automated manufacturing facility and warehouse in Suzhou, China.
All the plastic products from the company are durable and priced much lower than those from other competitors. The newly released PVC boxes are suitable for transportation by air or sea, and the company can make them as per customers' special requirements.
About DuratecPlastics.com
DuratecPlastics.com is the website owned by Duratec Industries Ltd. That specializes in plastic injection molding and plastic product assembly. The business is located in Suzhou, which is a beautiful tourist city in China and is considered as beautiful as the paradise. The company owns a modern manufacturing and warehousing facility as large as over 12,000 square meters. Competitive price, good quality, timely delivery and professional service are the reasons to choose DuratecPlastics.
For more information, please visit http://www.duratecplastics.com/.