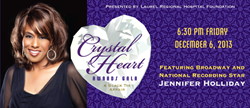 The Jaspers, this week's top contenders of "Amazing Race" host Awards Gala.
Laurel, MD (PRWEB) November 21, 2013
Honorary Gala Chairs Donna Edwards U.S. Congresswoman (4th District), and The Honorable Craig A. Moe, Mayor of the City of Laurel, invite you to join celebrity hosts Drs. Travis and Nicole Jasper, for the Crystal Heart Awards Gala on December 6, 2013. Broadway Star and Grammy Award winning recording artist, Jennifer Holliday will be the featured performer at this fundraiser, to support the development of a Women's Health & Wellness Program at Laurel Regional Hospital. The Gala will be held in the Marriott Inn & Conference Center, at the University of Maryland, 3501 University Boulevard East, in Hyattsville, Maryland, 20783.
This stellar black-tie affair starts at 6:30 with a VIP President's Reception and silent auction offering Swarovski Crystal Pearl Necklace, weekend getaway to New York, plus tickets to a Broadway show, and much more, including: a gourmet dinner; performance by Jennifer Holliday, who will perform hit songs and selections from her new CD release, entitled "A Song for You"; and an awards program, honoring 25 recipients for their roles in the heroic effort to save a patient's life. The night will be topped off with dancing to the sounds of DC's own Johnnie Steele and his band. The entire program will be hosted by Drs. Travis and Nicole Jasper, stars of Discovery Channel's "Untold Stories of the E.R.", and this week's top contenders on the hit television show "Amazing Race."
For 35 years Laurel Regional Hospital has supported the greater Laurel community, providing high-quality health care services to nearly 45,000 patients annually. As a non-profit community hospital and the only emergency facility in the city of Laurel, your generous contribution is critical to our expansion. Help save a life … make your contribution today.
Statistics show that women are dying at an alarming rate from heart attacks, breast cancer, hypertension, diabetes, and other preventable diseases. Many women living in the Greater Laurel Region must travel outside of Prince George's County to receive specialty services that can make the difference in saving a life. Laurel Regional Hospital plans to establish innovative programs for women that offer the highest quality health care and cutting-edge technology to deliver real-time results that can save lives!
Tickets for the Crystal Heart Awards Gala are $250 per person, and can be purchased by calling 240-321-9801. Take advantage of an opportunity to help save a life and make a tax deductible contribution by purchasing tickets, a table, or make a contribution to the Crystal Heart Awards Gala. For sponsorship and more information contact E. Moss at 301-497-7913.