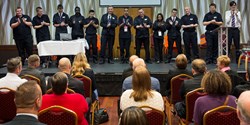 (PRWEB UK) 20 November 2013
First Capital Connect (FCC) is delighted to welcome 13 young people who have completed a Prince's Trust Get into Railways programme, into its company.
Five are from Bedford, five from Luton, one is from Sandy, one from Borehamwood and one from St Albans.
The youngsters completed the youth charity's intensive four week Get into Railways programme which saw them spend two weeks gaining practical experience at FCC stations, participate in various team exercises, CV workshops, and attain a first aid qualification.
The Get Into programme helps young people gain intensive training and experience in a specific sector. It also gives them the opportunity to improve their team work and communication skills, boost their confidence and develop their interview skills and CV at the same time.
Keith Jipps, FCC Customer Service Director, said:
"We are really proud to work alongside The Prince's Trust on the Get into Railways programme – to have 13 new faces join the company through it, is fantastic news.
"By playing an active role within the communities that we serve, we are delighted to be able to offer these youngsters a chance of employment."
John O'Reilly, Central England Director for youth charity The Prince's Trust, said:
"I am delighted the trust has been able to work with First Capital Connect to give these young people the opportunity to develop a career in the railway. The Get Into programme is a great way to gain invaluable experience from qualified professionals and improve their confidence to follow their career ambitions. Well done to everyone involved."
Three in four young people on Prince's Trust schemes move into work, education or training. The Prince's Trust aims to support 58,000 vulnerable young people this year, giving them the confidence and skills to turn their lives around.
ends
About First Capital Connect
First Capital Connect (FCC) operates trains from London to Bedford, Brighton, Wimbledon and Sutton on the Thameslink route and Peterborough, Cambridge and King's Lynn on the Great Northern route.
Approximately 180,000 people travel with FCC every weekday – 95,000 on the Thameslink route and 85,000 on the Great Northern route.
About The Prince's Trust
Youth charity The Prince's Trust helps disadvantaged young people to get their lives on track. It supports 13 to 30 year-olds who are unemployed and those struggling at school and at risk of exclusion. Many of the young people helped by The Prince's Trust are in or leaving care, facing issues such as homelessness or mental health problems, or they have been in trouble with the law. The Trust's programmes give vulnerable young people the practical.
For further information about The Prince's Trust, visit http://www.princes-trust.org.uk or call 0800 842 842.