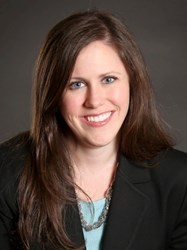 The association world is my passion and I look forward to continuing to do more work to enhance the power and performance of associations in our society.
McLean, VA (PRWEB) November 20, 2013
Coulter Companies is proud to announce that Amy E. Lestition, MA, CAE, associate vice president, Coulter, was selected by the Association Forum of Chicagoland and USAE weekly newspaper as one of the association community's forty most accomplished and up-and-coming professionals under the age of forty. Award profiles and interviews were published yesterday in a special Forty Under 40 Awards section of the USAE newspaper. The awards reception will be held on December 16th at the Hyatt Regency Chicago.
"It's truly an honor to be recognized as an inaugural Forty Under 40 award recipient," said Lestition. "It's quite a feeling to receive an award from peers and colleagues for a career in association management that has been personally rewarding and exceptionally good to me. The association world is my passion and I look forward to continuing to do more work to enhance the power and performance of associations in our society."
The Forty Under 40 Award recognizes Lestition's demonstrated high potential for success in leadership roles and her strong commitment to the association management profession. With 13 years of nonprofit management expertise, Lestition joined Coulter in 2006, and was named an associate vice president in 2009. Through her tenure at Coulter, Lestition has focused her work on association management and consulting for Coulter's clients ranging from strategic communications and marketing to organizational development and change. Lestition currently manages the CDC Grant awarded to the Interstitial Cystitis Association and serves as vice president of strategic communications and outreach for the Psychiatric Rehabilitation Association. From 2006-2012 Lestition served as executive director of Association Media & Publishing, the trade association serving the needs of association publishers, communications professionals, and the media they create. Lestition led several critical initiatives, including name change and rebranding, membership re-structure, editorial strategy, program content and management, leadership succession and governance, corporate fundraising, and member relations.
"During Amy's time at Coulter her intelligence, dedication, and her drive to improve the status quo has advanced Coulter's mission to transform high-potential, socially principled non-profit organizations and corporations from good to great," said Erin M. Fuller, FASAE, MPA, CAE, president, Coulter. "We are proud of Amy for her accomplishments and pleased that her work will be recognized by the association community for a second time in two years."
Lestition's full profile is available in the Forty Under 40 Awards issue of the USAE weekly newspaper, located on page 12B.
______________________________________________________________________
About Coulter:
Coulter increases the market relevance, brand power and economic capacity of socially-principled, high-potential nonprofit organizations. Coulter's association management division (Coulter Nonprofit Management) provides comprehensive headquarters solutions and project-based outsourcing for trade, professional and cause-based associations and foundations. Coulter's nonprofit events division (Coulter Events) produces conventions, conferences, trade shows and live Awards programs, from concept through execution. Coulter's consultative unit (Coulter Strategy & Innovation) delivers solutions which enhance nonprofit capacity and brand. For additional information on Coulter, visit http://www.wearecoulter.com.