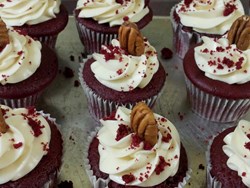 Charlotte, N.C. (PRWEB) November 21, 2013
Food delivery powerhouse, Foodie Call, marks the start of the holiday season with how-to tips for easy entertaining. Want to make sure the holidays stay filled with merriment and delight? Follow these easy suggestions.

Host potlucks instead of providing the entire spread.
Not only do you save money, but it's a fun way for people to showcase their cooking and baking skills. Include labels for food, so people can write down their names with their corresponding dish. Place the labels next to each item, and consider voting on the "Best Dish" at the end of the night.
Host themed cocktail and hors d' oeuvres parties.
This is another great alternative to a dinner party, which can save hosts a lot of money. Instead of spending money on serving entrees, find a handful of hors d' oeuvres that have similar ingredients to get the most out of your buck, and serve vodka and rum punches instead of beer and wine.
Wow your guests with your table setting on only $30.
Want to wow your guests with your table setting? Keep it simple, and buy bargain décor. Places like the Dollar Store sell silver serving trays that make for a uniform setting that's pleasing to the eye. While you're there, grab five to ten glass candlestick holders and white taper candles, and you'll be surprised how classy $30 bucks can look.
Use disposable items, such as plates and silverware.
Use disposable paper goods, but spend a little extra for the ones that resemble silverware. Trust us – you'll thank us the next morning during your clean-up duties.
Finally, consider ordering your favorite foods from Foodie Call.
Let guests decide what they want, and then order online for an easy dinner that are sure to please. Foodie Call also delivers paper goods and utensils, and even your favorite beer and wine. Who says party planning has to be stressful? Organizing and cleaning up should be enough; also keep Foodie Call in mind for the night before or Brunch the morning after the big party.
For more information or to plan your holiday menu in advance, visit http://www.MakeAFoodieCall.com. If you have questions or need help with a catering order, call Foodie Call's in house catering manager, Benny Fitzgerald at 704-245-6556.
About Foodie Call, Inc.
Foodie Call is a multi-restaurant marketing and delivery service that provides a delicious variety of Charlotte's best cuisine, beer, and wine to Charlotte metropolitan area residents, workers, and visitors. Foodie Call services Charlotte and the surrounding areas from Ballantyne to Lake Norman. The delivery company brings napkins, utensils, and drinks for a full complement to your meal. For special events, they can provide wine accompanied by gift boxes or items for themed events. For hours and menus, or to place an order, visit http://www.MakeAFoodieCall.com or call Benny, the catering manager, at 704-245-6556.
Contact:
Lindsay Yontz
Lindsay(at)MakeAFoodieCall(dot)com
308 E Worthington Ave.
Charlotte, NC 28203