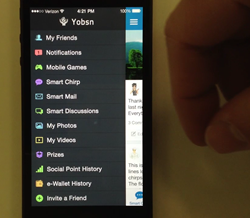 Out of the world's estimated 7 billion people, 6 billion have access to mobile phones.
Henderson, NV (PRWEB) November 21, 2013
Most people are familiar with the concept of working from home. It is something that most people dream of. It is something that those who do it are envied for. The ability to earn their living from the comfort of their home. To not have to worry about all the hassles of working in an office. To do it typically requires a computer, Internet connection and some computer skills. But for those who do it. It is a dream job. Work from phone is an idea no one has even mentioned before. Smart Media is truly on the cutting edge.
It is really the only way to improve on the freedom that home workers enjoy. The fact that something could be better than that seems hard to imagine. It seems like the perfect scenario but the future is much better. According to the UN: Out of the world's estimated 7 billion people, 6 billion have access to mobile phones. That is over 4 times the amount of people who have computers.
With Work from Phone it is now possible for anyone with a mobile phone to make their full-time living with it and nothing else. This means it can effect a much larger percentage of the population. Internet service is not available in many remote parts of the world but cell phone service is available in a much wider area.
So what will these people be doing to earn their living? Smart Media is a Internet Technology company that offers a revolutionary type of website. Unlike normal websites where the owner must design, host, maintain and constantly drive traffic to, in order for it to be effective. This site called YOBSN does all of that for them. It offers the solutions to the biggest problems website owners face, with the biggest one being traffic to the website itself. Learn more about YOBSN at http://smartmediacommunications.com.
Those who work from phone can chose exactly what they want to do. They can start out basic and move up to more advanced and higher earning work. For example a basic worker would simply find people to give the YOBSN product to. They would have their own YOBSN that is full of amazing things like a free University, Smart Library, Edutainment games, Social Network, Smart Mail, free prize entries and so much more. When people use YOBSN, Smart Media Makes money off of Advertising and they share that revenue with all the users. Free users earn social points that they can exchange for real items, much like a rebate card only they don't have to spend money to earn them. By giving YOBSN away the basic worker earns money whenever those free users earn social points. Also since the free users are also rewarded for giving it away the free user then become part of the persons work force dramatically increasing the number of users that, that person earns from.
A more advanced worker could go beyond that in 1 of 2 ways or both, earning an unlimited amount of income. The first would be to sell YOBSN to business owners. People looking for a much better alternative to websites. They would earn from the sale of the YOBSN as well as all the free members who come through it. They would also earn from any YOBSN sold through those people as well. The second is by seeking out people who are looking to Work from Phone. This was considered more advanced work up until now because their predecessors were looking for people who wanted home work not phone work. Those people needed a computer with them to show it to others, not anymore.
One might think at first that work from Phone is about calling people on the phone. But that has nothing to do with it. All they do is simply show people on their phone what they mean when they say "I work from Phone" or Show a business owner what YOBSN can do for their business by showing them on their Mobile phone.
Of the 6 billion people with mobile phones there is not a single one of them that does not need YOBSN whether it is to make a living; improve business; learn; play games; communicate with friends, family, customers, business associates; watch movies and so much more. Of course everything has its limits and the time will come when everyone will already have YOBSN even if only as a free user, but there has never been a larger market for any product in history. With the worse case scenario of simply earning off of free users it is something that anyone can do.
Smart Media is now getting ready to release YOBSN mobile which means people will be able to do everything on YOBSN from their mobile phone and so now takes its place in history as the creator of the biggest idea in Technological history with "Work from Phone".