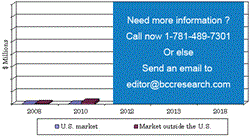 The Global Market For Ballast Water Treatment Equipment To Grow $8.5 Billion By 2018
Wellesley, Mass. (PRWEB) November 20, 2013
According to a new technical market research report, Ballast Water Treatment: Technologies and Global Markets from BCC Research (http://www.bccresearch.com), the global market for ballast water treatment equipment was valued at nearly $1.4 billion in 2012 and is expected to reach $2.1 billion in 2013. BCC Research projects the market to grow to $8.5 billion by 2018, and register a five-year compound annual growth rate of 32.9% from 2013 to 2018.
The shipping industry moves more than 80% of the world's commodities and transfers three to five billion metric tons of ballast water every year. Ballast water is essential to the safe and efficient operation of shipping, but also poses serious ecological, economic and health threats due to the inadvertent transfer of invasive aquatic species. The introduction of invasive marine species into new environments through ballast water transfer has been identified as one of the major threats to the world's oceans. In response, the 1992 United Nations Conference on Environment and Development called on the International Maritime Organization and other international bodies to take necessary steps and solve the problem.
In U.S. ports alone, approximately 200 million metric tons of ballast water is discharged annually. Of this, approximately 30% is of foreign-origin. The transfer of aquatic nuisance species in ballast water is a problem that affects global shipping and the environment, and to remedy this situation, the International Maritime Organization, federal agencies such as the Environmental Protection Agency and United States Coast Guard, and local authorities have established, or will soon implement, standards that limit the presence of problematic organisms that can be discharged along with ballast water.
In advance of any binding legislation, nearly 200 ballast water treatment systems have already been installed on oceangoing vessels in the current year. A few hundred systems are now installed every year. A steadily improving global economy, existing and pending governmental legislation, as well as stringent regulation on local and regional levels will shape tremendous growth in this market over the next five years.
This BCC Research report provides an overview of the global shipping industry and the problems associated with the transfer of invasive species from port to port in ballast water. Pending and existing regulations at the global, regional and local levels are described, along with their numerical standards and implementation schedules. Vessels affected by these rulings are identified and categorized by type, country, size and age. The report also presents estimates of the current market value and forecast values for the year 2018 by calculating the CAGR for a five-year period. Market size and growth are assessed for four world regions: North America, Europe, the Asia-Pacific region, and the "rest of world."
This study is designed to be useful to a wide range of readers: industry players, researchers, corporations and others who have stakes in shipping and ballast water treatment technologies, as well as those who are considering expanding into these markets. This study provides critical information to decision makers regarding global, national and regional investment strategies, along with the level of anticipated return that will result from continued market development.