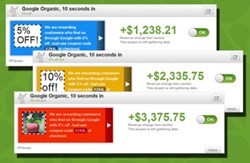 As a luxury retailer, we do not run a large volume of promotions but for the ones we do, the design flexibility and targeting capabilities of the tool are key.
Rochester, NY (PRWEB) November 21, 2013
UniteU, the leading omnichannel and eCommerce platform provider, announces its partnership with Spring Metrics a conversion rate optimization and visitor engagement company based in Raleigh NC. The partnership will provide additional value to clients using UniteU's robust digital commerce platform technology to power their online presence. Features such as Smart Offers allow retailers to engage and target customers with promotions specific to their behaviors. Analytics then track which offers are generating revenue in order to determine those that perform better than others.
Several of UniteU's digital clients have already invested in this new integrated feature and have seen excellent results. Because this feature is already available on the UniteU Commerce™ platform it is easy to adopt and offers a great opportunity to increase your site's traffic and profitability. "When entering a business partnership with a provider such as Spring Metrics we consider the real value that can be offered to our clients. After seeing the great success our early adopters have experienced, it was an easy decision to make this visitor engagement tool an integrated addition to our platform for our customers," says CEO and Founder Soumen Das.
Hyde Park, a client of UniteU, began using Spring Metrics in the beginning of 2013. "As a luxury retailer, we do not run a large volume of promotions but for the ones we do, the design flexibility and targeting capabilities of the tool are key," says Molly Wojcik Director of Interactive Marketing at Hyde Park. "The analytics tool is great for tracking a shoppers path-to-purchase, we get a lot of insight from this metric," continues Wojcik. Marketing and eCommerce directors can gain insight into details such as visitors by geo location, their time of visit, length of visit and lifetime purchase value. Data generated can also show the number of impressions a promotion has generated; the number of converted impressions and the resulting total revenue. The combination of UniteU's robust technology platform and the amount of insightful data provided in this tool makes it easy for a retailer to optimize their digital presence for maximum conversion.
About UniteU Technologies (http://www.uniteu.com): UniteU creates technology that enables unified commerce experiences across channels and devices. It is the industry leader at removing the complexity, risk and cost of enterprise e-commerce platforms so companies can focus on initiatives that drive growth across their digital, mobile and physical channels. UniteU offers a wide-range of solutions and services including uMobile POS™ and UniteU Commerce™, a smarter, faster cloud commerce platform that embodies more than a decade of omnichannel insights and high-volume experience. Superior technology and performance has resulted in an impressive client list that includes Pharmaca, Edwin Watts Golf, The Miami Heat, In-N-Out Burger, Shoe Station and City Sports.