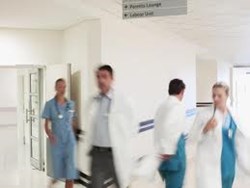 I'm weary as to whether threatening staff with the fear of criminal prosecution would bring an end to the other contributory issues surrounding clinical neglect
Bolton, UK (PRWEB UK) 26 November 2013
Having seen the aftermath of the Mid Staffordshire scandal, combined with other reported cases of poor care in NHS Hospital Trusts, MP's are now calling out for "wilful neglect" to be made into a criminal offense, punishable by incarceration (1).
According to the report, published by the BBC, the offense will carry a sentence of up to five years, under the Mental Capacity Act, which states that any action made on behalf of a person who lacks the capacity to do so themselves, is undertaken within their best interest (2). Where there has been clear failure to do so and medical negligence has taken place, health care professionals could be set to face these heavier punishing sanctions (1).
Speaking on the news, Laura Williams, Executive at Asons Solicitors, said that:
"We have had an increasing number of enquiries regarding medical care and treatment over the past year. Many of the cases we've been presented with however, could have been remedied by ensuring safe minimum staffing levels, creating transparency within patient care and ensuring up to date training for skilled professionals
"I'm weary as to whether threatening staff with the fear of criminal prosecution would bring an end to the other contributory issues surrounding clinical neglect."
The new proposals have been recommended as a consequence of the Sir Robert Francis public inquiry, commissioned by the government, which unveiled the mistreatment of hundreds of patients whilst under the care of Mid Staffordshire NHS Trust (1). Comments made by NHS officials in the BBC news report, indicate that hospital bosses are opposed to the suggestions, fearing that the threat of criminal prosecution will create a "climate of fear" amongst workers, ultimately making these changes counterproductive (1).
Ms Williams continued to say:
"When a medical negligence claim is filed against an NHS Trust, more so than a patient receiving compensation for the physical and emotional damage that can be caused by poor care, it forces the parties involved to take action. Following a claim, a healthcare association will usually react to the incident by improving processes, enforcing new practices and implementing better training, ensuring they learn from their mistakes and prevent it from reoccurring.
Healthcare professionals are after all human and in the vast majority of cases, these accidents are genuine mistakes. If the NHS adopted a system of operating that worked efficiently and didn't demand such an unsustainable amount of service from these individuals, more time could be invested into care and compassion, in turn reducing medical errors".
Receiving substandard treatment whilst in the care of an NHS Trust can potentially be a form of clinical neglect. In such an event, compensation may be awarded to support you through any injury or suffering caused. To find out more information on making a claim, visit http://www.asons.co.uk, or phone 01204 521 133 to speak to a medical negligence solicitor.
(1) BBC News, Doctors and nurses may face jail for neglect, 16/11/2013
http://www.bbc.co.uk/news/uk-24967230
(2) Justice, Mental Capacity Act, Updated 09/05/2012
justice.gov.uk/protecting-the-vulnerable/mental-capacity-act
(3) NHSLA, Factsheet 3: Information on Claims, July 2013
nhsla.com/CurrentActivity/Documents/NHS%20LA%20Factsheet%203%20-%20claims%20information%202012-13.pdf
About Asons Solicitors:
Asons Solicitors is a Bolton-based law practice that specialises in personal injury and industrial disease claims. Founded by brothers Imran Akram and Kamran Akram, Asons Solicitors has developed to become a young and dynamic law firm that delivers practical solutions to clients in times of difficulty. Their continued focus on their staff has seen them awarded with the Investors in People "Gold Award"; which is reflected in the professional and personable approach they take in working with clients. They strive to grow and to develop, and their supportiveness and attention to detail ensures that their clients use them time and again. The views expressed in this article are those of the individual and do not necessarily reflect those of the firm
For further information contact:
Email: info@asons.co.uk
Website: http://www.asons.co.uk