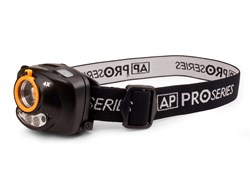 The demand for our torches has risen significantly in the wake of winter weather warnings, and expected blackouts.
(PRWEB UK) 22 November 2013
The latest weather reports are suggesting that the UK ought to be braced for arctic weather with freezing winds from the north set to batter the country, and a drop to arctic sub-zero temperatures expected next week. As a consequence, it has been reported by the National Grid that Britain is also at risk of powercuts this winter, due to an increased demand for electricity.
Indeed, a repeat of October's bad weather, when UK Power Networks reported 140,000 homes were without power in southern counties as a result of storm-force winds and floods, could be on the cards.
With blackouts anticipated as a result of the expected turbulent weather, being in possession of dependable battery-powered lighting may become necessary for the home and outside when Britain's winter woes hit.
One man who would entirely agree with that view is Ted McLoughlin, Sales Director at Active Products, the manufacturers of high performance torches and spotlights.
On Active Products' latest range, the AP ProSeries, McLoughlin comments "The demand for our torches has risen significantly in the wake of winter weather warnings, and expected blackouts. Certainly, all the emergency services are emphasising the need for quality dependable torches to be kept in the car in case of emergencies, while, it's a good idea to have one on hand when you leave the house.
McLoughlin continues "Moreover, our spotlights should also be considered as a powerful lighting solution in the case of a powercut. With fantastic beam projection, these spotlights can really fill the whole room with incredible bright light, and our inbuilt CREE LED technology means a much longer battery life than standard LEDs."
Aimed at both the professional tradesman and the consumer market, the Active Products ProSeries range of torches uses the latest innovative Cree Technology LED bulbs to emit extremely powerful and bright beams of white light. The impressive Cree bulb is capable of pumping out double the light of a standard LED bulb, while running for 50,000 hours longer. The ProSeries range spans from small hand-held torches such as the 75 lumens, to powerful spotlights that can beam distances of up to 300 metres, while the ProSeries head-torch, activated by motion sensor technology, is ideal for any hands-free activities.
All torches in the range offer substantial durability, energy-efficiency and incredible beam capability.
On the AP ProSeries McLoughlin adds "Our torches have received some phenomenal feedback from consumers who have praised their flexibility; the torches can be used in all manner of situations, whether domestic or professional. We fully expect these torches to be reliable in winter scenarios too, no matter how bad the weather gets or whether there are powercuts."
The full range of AP ProSeries high performance torches are backed by a three year guarantee.
Visit Active Products' new ProSeries website here to discover the full AP ProSeries range today.