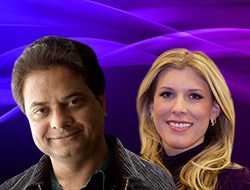 Alice Branton
(PRWEB) November 22, 2013
The event started with a brief dialogue from Jagdish Singh, Chief Operating Officer at the Trivedi Master Wellness™. He shared his experience of how his quest for spirituality led him to Mr. Mahendra Trivedi. The master of wellness Mr. Trivedi announced a gift of 25% of revenue from affiliates to the healers. Ms. Rebecca, a healer, expressed her gratitude and happiness for his gesture. Mr. Trivedi discussed about the transformation of Alice Branton into a Trivedi Master by divine's choice to whom Mr. Fred interviewed later.
In her interview with Fred Alice said that becoming a Master was never her goal and she didn't have the slightest idea about it. All she wanted to do all her life was to raise her level of consciousness and help people. She always felt that she is supposed to be the right hand of a person who is the greatest master on this planet and was looking for that master for years. On asking about how she is feeling she said that she's happy, grateful and quite excited to play her role as a Trivedi Master.
Alice shared how the transformation process, which involved detoxification and cleansing have brought positive changes in her physical appearance and habits. She described her moments of Energy Transmission as the highest state of awareness and that she is still new to the process of harnessing of knowledge of universe in a Trans state. However she cannot recall the things of the Trans state; she feels very refreshed afterwards.
CEO at the Trivedi Master Wellness™, Personal Assistant to Mr. Mahendra Trivedi and a family person as well Alice Branton, a Trivedi Master now says the choice of the divine will always be her priority and that she would like to do what Mr. Trivedi will ask her to do for the wellness of mankind.
Alice is the fourth and the recently transformed Trivedi Master. The other three masters are Mr. Mahendra Trivedi himself, Dahryn Trivedi and Gopal Nayak. To know more about these masters and various programs visit http://www.trivedimasterwellness.com or http://www.trivedieffect.com.