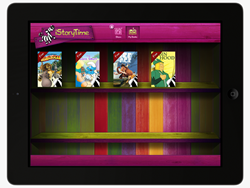 Collection of World's Most Popular Children's Storybooks Available Across Popular Android and iOS Devices
Santa Barbara, California (PRWEB) November 21, 2013
zuuka, one of the world's largest publishers of digital children's books, today announced the arrival of its iStoryTime storybook library app on Android. Launching worldwide today, and in time for the Thanksgivng travel season, the iStoryTime library includes four full featured books at no cost - Madagascar, The Giant Smurf, Ice Age and Robin Hood - as well as a wide selection of narrated children's storybooks from kids' favorite films, TV shows and classic stories. It is also available for iPhone, iPad and iPad touch on the App Store.
"Zuuka is proud to bring one of the most popular libraries of digital children's storybooks to Android tablets and smartphones around the world," said Graham Farrar, founder of zuuka. "From Kung Fu Panda to The Smurfs, our collection is full of fun characters that kids can enjoy with their parents, grandparents, teachers or by reading to themselves."
The iStoryTime library features professional narration, character audio, immersive story experiences, highlighted text and the ability to preview books before purchasing. The iStoryTime library is a comprehensive collection of the most recognizable characters around the world, including The Croods, Kung Fu Panda, Madagascar, Shrek, Ice Age, Monsters vs. Aliens, Meet Biscuit, Cloudy with a Chance of Meatballs and many more.
Called the "Netflix of kids books," iStoryTime lets parents subscribe to the entire library for a low monthly fee, they preview and buy these titles via in-app purchases, or earn books without ads by interacting with sponsors all of which is secured behind a pin-protected parental lock. Kids can easily pick and choose from already purchased stories in their library, without being tempted by un-purchased books.
From reliving the adventures of reader's favorite Zoosters in Madagascar to following the magical little creatures in The Smurfs, woolly mammoths in Ice Age or Robin Hood in one of the great classics - the iStoryTime library app is perfect for learning to read, road trips, airplane travel, bedtime stories and more.