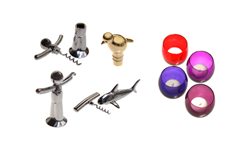 Whether you're looking for something practical and purposeful, dazzling and decorative, or fun and fabulous, the perfect gift is waiting in our stores.
(PRWEB) November 21, 2013
It's time to start bringing out those Christmas trees, hanging the mistletoe and indulging in some good old-fashioned mince pies again - Christmas is about to arrive and with it the thrill of sharing in the spirit of giving. Searching for the perfect gifts to place underneath the tree this year? Boardmans has a wide range of fantastic spoils for just about every name on your Christmas list.
Whether you're looking for something practical and purposeful, dazzling and decorative, or fun and fabulous, the perfect gift is waiting in our stores. We've even put together a few helpful suggestions to help get that creative inspiration flowing.
For the super chic design diva, Jenna Clifford is the embodiment of beauty, passion and style. The brand's bespoke and superior designs will help add an extra touch of glamour and style to the most elegant homes. We recommend the ultra-chic Jenna Clifford Diamond 2pc Tea Light (R399.95) – perfect for special occasions. For showing off memories in style, the range's Large Diamond Frame (R429.95) is a fabulous treat.
K Mix is the perfect fit for fun loving food enthusiasts. Its extensive range of colourful gadgets will not only put the fun back in the kitchen, but are also extremely practical and sure to be put to good use. From toasters to blenders, these bright and cheery appliances are fantastic as gifts. Try a bright and funky K Mix toaster for just (R999.95).
If the person you have in mind has a very modern approach to home decor and enjoys collecting highly stylish and unique items, then Umbra is the brand to look out for. The world leader in modern and original, yet affordable design, Umbra is known for its ground-breaking and innovative products. For a great gift in the Umbra range, we recommend the brand's highly original Limited Edition Brass Bottle Stoppers (R149.95 each), Hammerhead Cork Screw (R199.95) or the Umbra Buddy Cork Screw (R159.95). Alternatively, the Little Black Dress Hangover Organiser (R299.95) or the Specs Shot Glasses (R149.95) are extremely useful and unusual items which are sure to impress.
LSA International is one of Europe's top brands in contemporary handmade glass and porcelain, making it the ideal spoil for fashion-forward individuals who are not afraid to flaunt their original sense of style. Handmade and mouth-blown using age-old techniques, these trendy items are renowned for their quality and longevity. Why not try a set of fabulous colourful tea lights (R279.95) for some decorative fun?
Budding food gurus who are known for their retro style will be mad about Tala's range of kitchenware items, now available at selected Boardmans stores.
A brand known for its innovative, quality products, Tala is also a timeless kitchenware brand – one of the oldest in the UK. These classic items are both highly decorative and highly functional. We recommend a classic set of the brand's retro baking items (items from R169.95 to R299.95) to add some retro flavour to the kitchen.
With an incredible range of top brands, Boardmans truly has something for everyone this Christmas. Head of Buying at Boardmans Chris Swart invites shoppers to come and experience the magic of Christmas with Boardmans.
"With the finest and broadest selection of home décor products, Boardmans will be helping to make Christmas across the country that much more special this year," he concludes.
About Boardmans
Trust Boardmans, your home specialist store, to help you create an impression that lasts. Celebrate your world and get your home ready for any occasion with the best in kitchen, bedroom and bathroom brands. Visit our stores for the hottest seasonal trends, the widest range of international brands and great value. Go to http://www.boardmans.co.za for more information.
About ThankU
With more than 10 million loyalty cards, as well as a club membership programme, Edcon has the largest base of consumer credit customers in Southern Africa. Customers can now earn points whilst shopping their favourite international brands.
ENDS.
Issued on behalf of: Boardmans
Contact: Chris Swart
Issued by: Phatic Communications
Contact: Sarann Buckby
Cell: 083 381 0710
Email: sarann(at)phatic(dot)co(dot)za