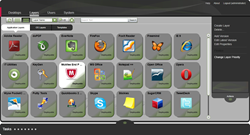 Thanks to Unidesk and VMware Horizon View, we now have virtual desktops that are unbelievably easy to administer, provision, patch, and support, and that our employees can access from any device whenever, and wherever, they want.
(PRWEB) November 20, 2013
It is hard to find a refrigerator anywhere in the world that does not include foods processed or packaged with clippers and clips from TIPPER TIE™. When the wholly owned subsidiary of Dover Corporation specializing in processing, packaging and automation solutions realized that its physical desktop computers were getting in the way of doing business, it decided to make a change.
Personal computers at TIPPER TIE offices in the U.S., Germany, the Netherlands and Switzerland are now being replaced with virtual desktops provisioned and managed by Unidesk® Virtual Desktop Infrastructure (VDI) management software and securely accessed by VMware Horizon View™. VDI is enabling TIPPER TIE employees to connect seamlessly to their applications from anywhere in the world, while making the company's lean IT staff even more agile, efficient, and responsive.
"We make impressive machines that require the collaboration of a diverse workforce, so their desktops and applications had better be highly available and up to date with the latest software," said Drew Bartow, Senior IT Engineer at TIPPER TIE. "It was getting harder to maintain our growing physical PC fleet and respond to user demands with our existing IT staff. Thanks to Unidesk and VMware Horizon View, we now have virtual desktops that are unbelievably easy to administer, provision, patch, and support, and that our employees can access from any device whenever, and wherever, they want."
Unidesk is a converged VDI management solution that combines desktop provisioning, image management, application virtualization, personalization, and storage optimization into one, easy-to-use platform. This all-on-one solution is made possible by Unidesk's patented desktop layering technology, which enables desktops to be created by mixing and matching reusable sets of operating system and application "layers." The elegance and flexibility of layering eliminates the multiple point tools and consoles that have made VDI too hard to deploy for many organizations, and brings new levels of efficiency to the management of Microsoft Windows®.
"We've layered pretty much every app we can think of with Unidesk," said Bartow. "It used to take three people twelve hours each to update a few hundred desktops with the latest version of our ERP app. Now with Unidesk, it takes one person thirty minutes to layer the same update. We let Unidesk rebuild the desktops, and the new version is there. We can even roll back to a previous version if there's a problem."
Integration with VMware Horizon View enables Unidesk-provisioned desktops to be accessed through all the client options supported by VMware View, including home PCs, laptops, thin clients, and mobile devices.
Added Bartow, "One of our marketing managers was at a major manufacturing trade show in Europe when she found an error in one of our brochures. From her iPad sitting at the trade show, she pulled up her desktop through the VMware View client for iOS, accessed her desktop running in North Carolina, ran Adobe, edited the brochure, and sent it to the publisher. She didn't need VPN or special encryption, just an internet connection."
Unidesk's layering technology stores single instances of Windows and application layers once for many desktops, so persistent and non-persistent desktops are both storage-efficient. TIPPER TIE has chosen to deploy persistent desktops to give employees a consistent user experience that saves all of their user-installed applications, plug-ins, preferences, and data.
"We like to keep previous versions of Windows and our applications around so we can roll back to them at any point for break/fix and development and test," said Bartow. "Without Unidesk, this would have been very expensive. With Unidesk, we've needed less than three terabytes for our 160 production desktops, even with each user getting an 8 GB user layer and saving multiple layer versions."
TIPPER TIE is now expanding its VDI implementation to its offices in Germany, the Netherlands, and Switzerland, and plans to have nearly 400 desktops in production by the end of the year. With Unidesk layering, only one gold OS layer is required for each country, making Windows patches and updates fast and easy.
"There's no way our VDI project would have been as successful if it weren't for Unidesk," said Bartow. "In IT, you always hear vendors say 'this is easy.' With Unidesk, it's really true. Nothing I've done in IT has been as easy as Unidesk."
Tweet This: TIPPER TIE deploys #VDI in U.S., Switzerland, Germany, and Netherlands with @UnideskCorp and @vmwareview - http://bit.ly/1cGspzC
To learn more about TIPPER TIE's desktop virtualization initiative, attend the live webinar with Drew Bartow that will take place on Thursday, November 21 at 2:00 PM ET. Register here: http://www.unidesk.com/resources/webinars.
About Unidesk Corporation
Unidesk is enabling the movement of Microsoft Windows® desktops to the cloud. Unidesk's patented desktop layering software is the only effortless way for IT organizations to deliver applications, manage images, sustain user customizations, and optimize storage for Microsoft Windows® desktops virtualized on VMware vSphere®. Hundreds of Citrix XenDesktop® and VMware Horizon View™ customers use Unidesk to make VDI provisioning and Windows management elegantly simple. Unidesk is a privately held company headquartered in Marlborough, Mass., with authorized solution partners around the world. For more information, visit http://www.unidesk.com.