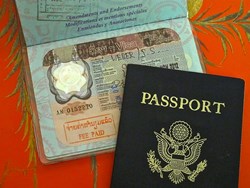 JOURNEYS wants to reward the adventurous holiday spirit with Wanderlust Wednesday deals that eliminate barriers to travel.
Ann Arbor, MI (PRWEB) November 20, 2013
Still searching for a holiday shopping deal more relevant than Black Friday doorbusters, Cyber Monday specials, or even Giving Tuesday donation opportunities? Wanderlust Wednesday is now here for eager travelers.
Wanderlust Wednesday, the Wednesday after Thanksgiving, is the newest day for deals. Pioneered this year by JOURNEYS International, the day embraces the holiday spirit and invites travelers to find value in unique travel experiences rather than material gift products.
Bigger than mere door-busters, the deal from JOURNEYS this year is its International Border-Buster Special. Sign up for any trip by Wanderlust Wednesday (December 4) and JOURNEYS will pay all visa fees for US passport holders. The company provides travelers with full, personalized assistance with all aspects of travel planning as a regular component of their pre-departure services. Now, they will also reimburse visa fees.
"We want to reduce the barriers, tedium and costs that separate our travelers from the destinations on their wish lists," explains JOURNEYS president Robin Weber Pollak. "If you are purchasing a JOURNEYS trip for yourself, your family, or as a gift, we want to reward your adventurous holiday spirit by eliminating the extra cost of your tourist visas."
According to Pollak, the cost of visas can be substantial as more countries around the world have implemented visa fees as a source of revenue, while others have established very high visa charges as a reciprocal response to the high fees the US government charges citizens of those countires for tourist visas. The Border-Buster Special applies to all of the 53 international destinations where the company offers guided travel programs.
"There's no bad time to plan a vacation," suggests Pollak, "but this season can be a particularly special time to think of travel as a gift of experience for yourself or others. Travel is personal, profound, and enduring. Our detailed pre-departure kit makes a great package under the tree."
JOURNEYS offers more than 200 nature, culture, and adventure trips around the year, throughout the world, for all ages. Pollak especially recommends Tanzania, Chile, Argentina, and Brazil as destinations offering a variety of exotic experiences, but also requiring high visa fees that can be avoided by booking with JOURNEYS by December 4.
About JOURNEYS International:
JOURNEYS International is the longest standing family-owned global ecotourism company in the US offering full-service exotic, guided cross-cultural explorations, nature safaris, treks and eco-tours in remote corners of Asia, Africa, the Americas and the Pacific. Founded by current directors Will and Joan Weber in 1978, JOURNEYS boasts an extraordinary record of client satisfaction and industry awards. For more information please visit: http://www.journeys.travel.