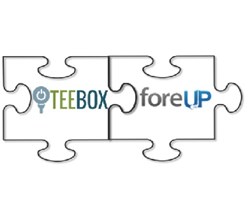 This partnership will allow to integrate check in and sales process into one quick and easy experience.
Miami, FL (PRWEB) November 25, 2013
Two of the most forward-thinking companies in the golf business are teaming up to make sure that golf pro shops can use both of their products to improve efficiency and the overall customer experience. Golf TeeBox, an innovative Golf Kiosks that automates the check in process for golf courses, is already making big waves in the golf business. With this partnership with foreUP, clients can get the whole package up and running in less than a day.
foreUP software is a golf tee sheet and POS system that has a reputation for being one of the most user-friendly products in the market. Based in the cloud, foreUP can be accessed from anywhere with an internet connection, making it far more flexible than other server-based software models. Being able to run the foreUP software on the exciting new Golf Check in Kiosks is a comprehensive solution that golf shop owners will love.
At the end of the day, it is all about the bottom line. This partnership helps course owners focus on the bottom line by freeing up staff to make additional sales rather than standing behind the counter. With their staff focused on making sales instead of just punching buttons on the computer, owners can expect to see better results on a daily basis. Staff who are engaged in friendly and helpful conversation out on the sales floor are the most powerful tool the pro shop has to sell more than just tee times. Also, by using the foreUP software, owners will be able to easily track sales and profits on an ongoing basis to make the right decisions day in and day out to guide the business.
There are benefits to the golfers as well when the pro shop implements Golf Kiosks. For one, the check in process will be faster so they can get right out onto the practice range and warm up for their round. Also, with the pro shop staff free to talk, they can get the information they are looking for regarding specific products and make a more informed buying decision. It is a win-win for all involved.
To learn more, visit GolfTeeBox.com and foreUP.com.