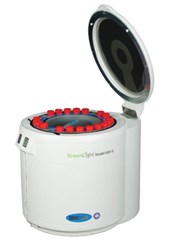 Vernon Hills, IL (PRWEB) November 20, 2013
For a low-cost method of measuring disinfection efficiency and contamination levels, Cole-Parmer presents the new GreenLight® Environmental Bacterial Count Systems. The systems are ideal for monitoring wastewater discharge for disinfection limits in NPDES permits, drinking water plant disinfection, and bacteria in water at beaches.
The systems measure oxygen consumption to determine the level of live aerobic bacteria. A single-use fluorescence sensor vial within a system assesses the rate of bacterial respiration. With a built-in incubator, each system is able to provide results in just 45 minutes. These results meet 40 CFR part 160 EPA requirements. They are calculated following Standard Methods (method 2710 B), providing total viable counts/aerobic plate count (TVC/APC) data.
Select from Model 910, a single-sample system for 15-mL vials, or Model 930, which is automated for high throughput with a 24-position carousel system for 15-mL vials or 48-position carousel system for 2-mL vials. For more information on the GreenLight Environmental Bacterial Count Systems from Cole-Parmer, go to ColeParmer.com/20683 or call 800-323-4340.
Cole-Parmer has been a leading global source of laboratory and industrial fluid handling products, instrumentation, equipment, and supplies since 1955. Our product lines, including popular brand names such as Masterflex®, Oakton®, and more, are sold through company-owned customer channel outlets and a strong network of international dealers. We also feature an ISO-17025-accredited metrology lab for instrument calibration and repair. Cole-Parmer responds with excellence to customer needs, and offers application expertise and technical support. For more information, contact Cole-Parmer, 625 East Bunker Court, Vernon Hills, IL 60061. In the US, call 800-323-4340. International customers, call 847-549-7600. Visit us at coleparmer.com.