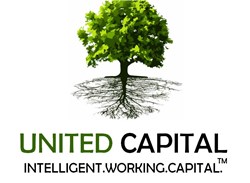 Saint Petersburg, Florida (PRWEB) November 22, 2013
United Capital Funding Corp., the leading professional Accounts Receivable funding and AR management services based in the United States today announced that it has expanded with the opening of a new office location in Charlotte, North Carolina.
Mark S. Mandula, Managing Partner of United Capital Funding Corp. noted that, "With the addition of a seasoned professional like Tom Musante as a Senior Business Development Officer in October of this year, the opening of a new office in Charlotte, North Carolina evidences our strong commitment to serving new clients by offering our professional services in North and South Carolina and the entire Southeastern United States."
Musante will lead and manage United Capital Funding's new office in Charlotte, located at 6000 Fairview Road, SouthPark Towers, Suite 1200, Charlotte, North Carolina 28210. Tom has 30 years of experience in the Factoring and Asset based lending sectors, and has previously held Executive positions with Capital Factors, GE Capital Commercial Services, First Citizens Bank and GrandSouth Bank. He is also active in the Carolinas Chapter of the Commercial Finance Association.
About United Capital Funding Corporation
United Capital Funding Corporation provides Intelligent Working Capital via factoring, credit insurance coverage and efficient Accounts Receivable management solutions to clients nationwide. These professional services allow clients to strengthen their cash flow, streamline internal operations and assist them in competing successfully in the current challenging economic environment. United recently announced that it exceeded $2 Billion in funded and managed relationships since its formation in 1997. Starting with a single Florida based client, United Capital Funding now serves clients in 29 states, and is based in Tampa Bay, Florida. United also has a regional office in Nashville, Tennessee.
United Capital Funding is the fiscally savvy alternative for healthy companies in the staffing, government, manufacturing, service, distribution, technology and professional services sectors looking to profit from the flexibility and speed of partnering with a privately held, well capitalized source. A partnership with United Capital Funding Corp. results in a client gaining monetary as well as back room efficiencies to better compete in the current very competitive economic environment. Additional information on the specialized business financial services provided by United, including factoring, Accounts Receivable management, and working capital are available online at their website; http://www.ucfunding.com.