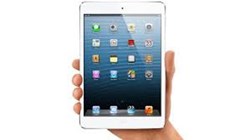 Teachers give so much time and energy to help provide the best education for our children, and this is our way of saying thank you to them.
Longwood, Florida (PRWEB) November 21, 2013
Teachers Insurance Specialists, A Horace Mann Company, is participating in the 2013 "iPad Attack" Facebook promotion. 12 iPad Minis will be given away in 12 Days to People Who "Like" The Horace Mann Company Facebook page.
This promotion started on November 18, 2013 and will run through November 28, 2013. Horace Mann is the parent company of Teachers Insurance Specialists of Longwood Florida and is facilitating this national promotion. They will be giving away 12 Apple® iPad Minis with retina display 16GB over the course of 12 days.
The Horace Mann Educator iPad Attack Promotion is returning to Facebook for its second year. Horace Mann Insurance Agency is giving away one iPad Mini daily to Educators as a way to give back to teachers for all of their hard work and dedication in the Education field. Florida teachers are eligible for a chance to win by simply "Liking" the Horace Mann Facebook Page.
This promotion is only available to educators. Those participants will be asked to provide their name, address, phone number, e-mail, and school name. Teachers Insurance Specialists encourages all local teachers to "like" the Horace Mann Company Facebook page for a chance to win an Apple iPad Mini.
"Teachers give so much time and energy to help provide the best education for our children, and this is our way of saying thank you to them. Our Florida insurance agents hold a high regard for all teachers and think this is a great way to give back during the holiday season," says Simone Baldwin, owner/operator of Teachers Insurance Specialists. "We hope all teachers like Horace Mann on Facebook for their chance to win," adds Baldwin.
Teachers Insurance Specialists offers a variety of insurance products to Florida educators and non-educators. These "tailored to fit" insurance policies include auto, home, property, renters insurance, motorcycle, golf cart, RV, travel trailer and motorhome insurance as well as life insurance. The Longwood, Florida agents at Teachers Insurance Specialists provide comprehensive insurance quotes to properly cover any home, auto, and life insurance need.
Teachers Insurance Specialists are located at 2917 West State Road 434, Suite 101, Longwood, Florida 32779. "Our office is about 25 minutes East of Downtown Orlando along Interstate 4. We encourage Florida residents to meet with us face to face to review their insurance policy. As 2014 approaches we recommend insurance policy holders look at their policy and talk with us to see how we can save them money. There are many auto insurance discounts available however insurance policy holders don't know to ask about this. A clean driving record can offer auto insurance policy holders an opportunity for car insurance discounts but we need to sit face to face with customers to review their policy" adds Baldwin.
For more information about Florida insurance policies or to get a quote on insurance in Florida, please call the insurance experts at Teachers Insurance Specialists at (407) 622-6634 or visit their website at http://www.TeachersInsuranceSpecialists.com.